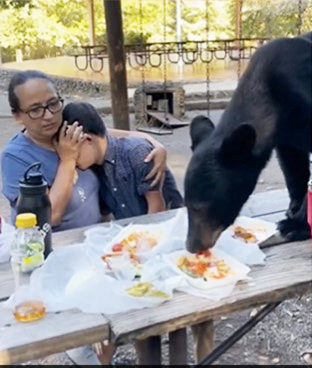 Silvia Macias of Mexico City took her children to Mexico's Chipinque Ecological Park in part to celebrate her son's 15th birthday. They liked the open-air park and freely wandering animals they could see. Her son, Santiago, has Down's syndrome. "Santiago is very afraid of animals, a cat or a dog, any animal scares him a lot." "That's why I covered his eyes, because I didn't want him to see it and scream or run. I was afraid that if he got scared or screamed or scared the bear, that the bear would react," she said of the incident Monday. Silvia said that she and her girlfriend "Angela" had previously thought about the possibility of a bear encounter — they are not unknown in the park, though usually the bears come out more toward dawn or dusk, not midday — and they had come up with a plan. "We are going to play a game where we cover Santiago's eyes and we are going to act like statues," she recalled rehearsing the plan.
Silvia bravely shielded her son after a bear leapt on a picnic table and devoured the tacos and enchiladas meant for the boy's birthday dinner, inches from his face. "The worst thing was that Santiago might get scared," Silvia recalled. Santiago remained motionless, even though "the bear was very close to us, we heard him as he growled, as he ate, you could smell the bear's breath. It was really very, very close." Asked if he had been scared, Santiago, who attends middle school in Mexico City, said, "Yes, a lot." In the video below that has gone viral on social media, the bear is seen gorging on enchiladas, salsa, tacos, and french fries laid out on a picnic table for the children at lunch time. in the park. Silvia knew the rules of the park not to run or scare the bear, but she wanted to shield her son, so he would not create an incident with the interloper. "The worst thing was that Santiago might get scared." The mother-son, meanwhile, sat frozen in silence. When there was no more food, the bear leaped off the table and left. The video was filmed by Ms. Macias' friend, Angela Chapa.
According to a BBC report, the park's website warned visitors that encounters with black bears have increased in the Monterrey metropolitan area and have been seen prowling in parks, neighborhoods, and streets near the mountains increasing the risk to people and to the bears. The park also advised visitors to "never try to photograph a bear up close." Santiago got his birthday tacos replaced, and all ended well. Silvia says she doesn't consider herself a hero. "I just think I'm a mother who protected her cub," she said.
"El aviso" Picnic problems
What do you call the smell of leftover Mexican food in your car?
A Texas air freshener.
My Mexican friend wrote a song about a fajita.

Well actually, it's more of a wrap.
What was Yogi bear looking for in the picnic basket?
Just the "Bear" necessities.
Office picnic: when the boss goes on his vacation.
September 28th Birthdays
1972 – Gwyneth Paltrow, 1967 – Maria Canal Barrerra, 1964 – Janeane Garofalo, 1934 – Bridgette Bardot
1954 – Steve Largent 1967 – Moon Unit Zappa, 551 – Confucious, 193-93 – Alex Landi
Morning Motivator:
That guy is a couple sandwiches short of a picnic.