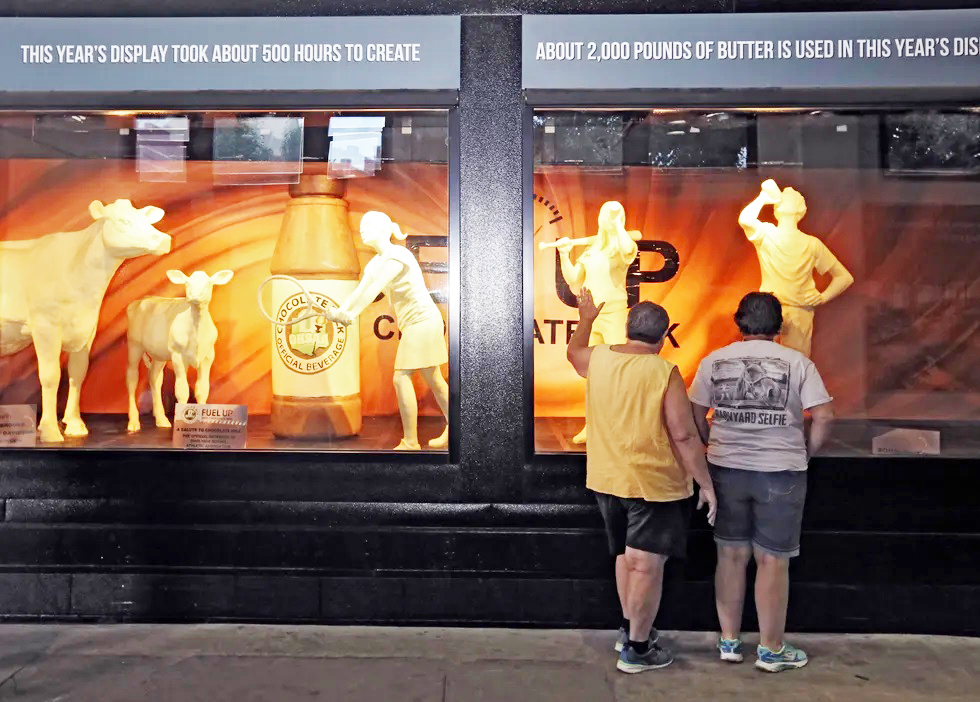 You know that dairy farmers want to butter you up and their big chance is always the state fair. Not only can you see world class animals and lots of food, but the high point of nearly all of them is the butter sculpture. Most often the dairy demonstration is a life size butter cow. Many fans originally thought the sculptures were made 100% of butter. A photo got out that shows the Illinois State Fair Butter Cow shaved down to reveal the framework under the butter. "I feel deceived. It should have been a solid block of butter. If we cannot believe in butter cows, what can we believe in," one person tweeted. "The Butter Cow starts with a wood, metal, wire and steel mesh frame and about 600 lbs. of low moisture, pure cream butter," the website reads. "Once inside the 40-degree cooler, layers of butter are applied until a life-size butter cow emerges — measuring about 5-1/2-ft high and 8-ft long. Each year, much of the butter is recycled and can be reused for up to 10 years." The process takes about five days." Which means, presumably, since the whole sculpture weighs 800 pounds, the framework underneath the butter weighs about 200 pounds.
The Illinois Butter Cow, which is commissioned by the Midwest Dairy Association, dates back to the 1920s and is a tradition many of the guests look forward to every year. There is enough butter in the butter cow for 19,200 slices of toast, which would take an average person two lifetimes to eat. In 2000, Gov. Branstad was sculpted out of a 150-pound brick of Colby cheese. On three occasions, the butter cow actually "produced" milk. (A trick completed using a re-circulation pump.) Older butter is better, according to sculptress Sarah Pratt. "New butter is crumbly," she said, "Older butter is more workable, like clay." While sculpting, butter is kept outside the cooler so it's soft and pliable when needed. Once in the cooler, the butter sets in about 20 minutes. A properly refrigerated butter sculpture can stay in place for four to six weeks. In the past, the fair used unsalted butter in its sculpture as salt was thought to attract moisture and cause the sculpture to sweat or crack. Today, the fair uses salted butter, which acts as a preservative. The butter cow turned 100 in 2011.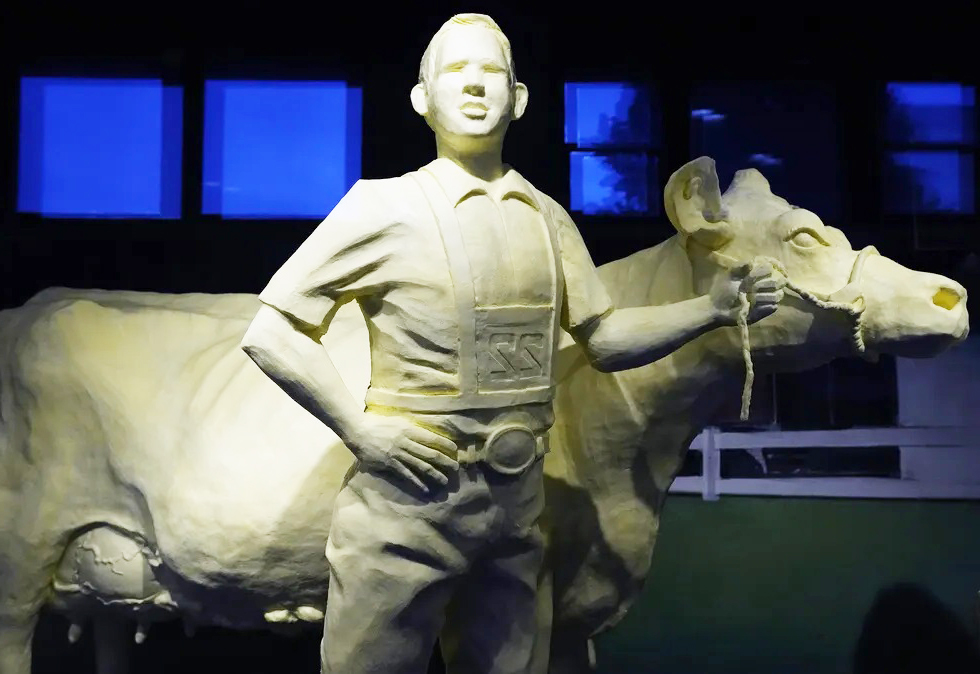 The butter cow and calf sculptures have been presented annually at the Ohio State Fair since 1903 when the very first likenesses were part of a butter sculpting contest. They delighted crowds and became a permanent attraction which is now housed in the Dairy Products Building. The butter cow and calf now appear annually along other elements, also sculpted in butter, that carry various themes including cultural trends in Ohio. Past tributes include Darth Vader, Neil Armstrong, Brutus Buckeye and the Furby. Approximately 500,000 people view the butter cow and calf each year. The 2022 butter cow exhibit, according to the Ohio State Fair's website, was the largest display in Ohio State Fair history, made of 2.530 pounds of butter.
Butter jokes
It's better to use butter when creating a recipe.
That way you have more margarine for error.
Scientists say that talking to dairy cows helps them to produce more milk.
It's in one ear and out the udder.
I just inherited a dairy farm.
I don't like it, but I'm going to milk it for all its worth!
If Cinderella had been a dairy maid, she would have been called…
Mozzarella!
September 13th Birthdays
1997 – Lily Rhinehart, 1948 – Nell Carter, 1977 – Fiona Apple, 2000 – Zoey Berger
1981 – Ben Savage, 1997 – Robby Kay, 1992 – Alexis Cobis, 1969 – Tyler Perry
Morning Motivator:
Think success: The universe works to mirror your beliefs.