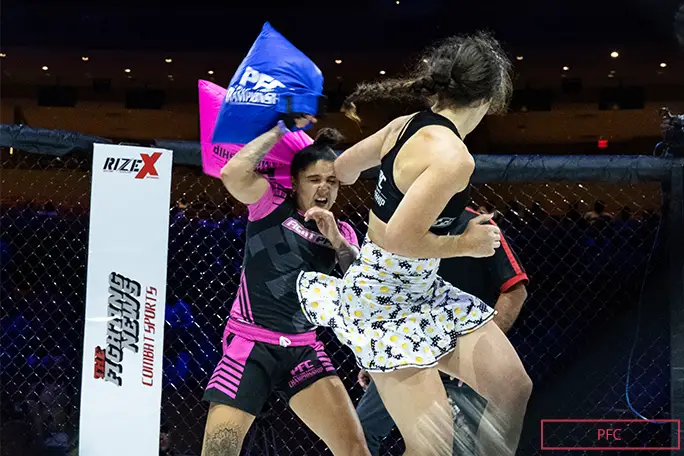 Pillow fighting isn't just for slumber parties anymore, it has now become a part of the world of professional sport, too. On 29 January, the first-ever professional Pillow Fighting Championship (PFC) and earning the record title for the first pay-per-view pillow fight. Sixteen men and eight women, who have backgrounds in mixed martial arts and boxing, took part in the first edition of the showdown. Pro MMA fighter Istela Nunes from Brazil was crowned the winner in the women's finals after she defeated America's Kendahl Voelker. The winner of the men's final was American MMA fighter Hauley Tillman, who took down UFC veteran Marcus Brimage. PFC is trying to turn pillow fighting into a professional sport – but unlike MMA, "anyone can compete, and anyone can win." Described by CEO Steve Williams as "hardcore swinging with specialized pillows." Pillow Fight Championship aims to bring spectators the adrenaline rush of a combat sport without any of the blood and violence. As in the video below. "I can come at you as hard as I possibly can. It's going to hurt, but you're going to be OK."
Competitors use specially designed pillows made of foam rather than down. The pillows have a nylon casing with durable handles to allow for fast and hard-hitting movements. The queen-sized pillows, which weigh up to 2.2 lbs each, aren't your typical nap time cushions. "We added the ripstop nylon which added a lot of flash and helped the sound because a bedroom pillow won't really make any noise when it hits but the ripstop nylon combat pillows make a loud 'POP.'" The two competitors standing six feet apart and trying to hit their opponent over the head as many times as possible. Fighters must swing the pillow single-handedly and are only allowed to raise their hand up as high as their neck to block an incoming "pillow punch." Because flinging a bulky cushion becomes increasingly difficult after four minutes, even for experienced MMA pros, PFC fights are only comprised of three 90-second rounds. Since participants' roots in combat sports like MMA and jujitsu, pillow fighting often uses similar skills. For many, training includes plenty of cardio, weights and pillow swinging. "I'm coming out with cartwheels, I'm coming out with backspins," said Kendahl Voelker. "I didn't even use half of the things I have in my arsenal." Whether fighters choose to attack their opponents with finesse or knock them to the ground, using pillows as fists means they get to leave the ring with their teeth.
 So far about 300 people have taken part in bouts in the U.S., although as many as 2,000 have signed up to fight. PFC has also reached out to two world class would-be fighters who were supposed to be facing off in a cage match of their own: Elon Musk and Mark Zuckerberg.
Pillow fights
I tried to cheer myself up by having a pillow fight.
Now I feel more down than I did before.
To the person who stole my pillow.
I will not rest until I find you!
Memory foam pillows are the worst. As soon as I lay down on them, it reminds me of all the things I messed up during the day.
When you have a pillow fight with a memory foam pillow,
that's a pillow fight you'll never forget.
September 8th Birthdays
1972 – Brook Burke, 1979 – Pink, 1991 – Dianne Doan, 1988 – Chantal Jones
1972 – Martin Friedman, 1972 – David Arquette, 1976 – Larenz Tate, 1925 – Peter Sellers
Morning Motivator:
It is not because things are difficult that we do not dare,
it is because we do not dare that they are difficult.