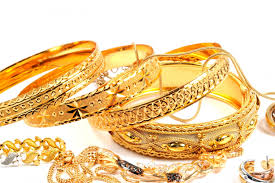 Earlier this year, when his doctor encouraged him to become more active, 50 year old Erlend Bore purchased his first metal detector. One day, after searching a beach with little success, he decided to change his strategy, as he told Norwegian Broadcasting. He looked out over the landscape and thought, "If this was a long time ago, where would I have been?" Bore moved to higher ground. There, his metal detector began to beep. He got to work on the Norwegian island of Rennesøy and quickly stumbled upon something strange. At first, he thought he'd unearthed some old foil wrapped chocolate coins; in reality, but he'd struck gold. He dug up nine engraved gold pendants, ten gold pearls and three gold rings—all dating to the sixth century. The discovery is the first of its kind in the country since the 1800s. "I was suddenly sitting with a gold treasure in my hands. There were lots of little gold pearls. Here it was important to get everything and not lose anything." "This is the gold find of the century in Norway," says Ole Madsen, director of the Museum of Archaeology at the University of Stavanger, in a statement. "To find so much gold at the same time is extremely unusual." Soon after, Erlend sent a photo of the find to nearby experts.
The pendants and beads likely once made up "an exceptionally splendid necklace." The jewelry may have been "crafted by skilled goldsmiths and worn by the most powerful individuals in society." Dating to 500 C.E., "This period likely marked a crisis with crop failures, worsening climate and plagues," says Reiersen. "The numerous abandoned farms in Rogaland from this era suggest that the crisis hit this region particularly hard." The gold pendants – flat, thin, single-sided gold medals called bracteates – dated from the so-called migration period in Norway. Unlike other pendants from the era, which show the Norse god Odin healing a horse, these pendants show only a horse. They were worn to bring protection and good health. While Odin doesn't appear on the newly discovered pendants, "On these gold pendants, the horse's tongue hangs out, and its slumped posture and twisted legs suggest that it is injured," says Oehrl. "Similar to the Christian symbol of the cross, which was spreading in the Roman Empire at the same time, the horse symbol represented illness and hardship, but also hope for healing and new life."
Conservators at the Museum of Archaeology are now cleaning the artifacts, which they hope to put on public display. Bore will, however, receive a finder's fee, and he plans to continue his new hobby.
Look what I found!
Just found an app that tells you which of your family members and friends are racist.
It's called Facebook.
Found a hair in my McDonald's burger, I was so surprised…
…I didn't know they used natural ingredients.
Yesterday, I found $20 on the street on my way home. As a good Christian I thought "What would Jesus do"…… so I turned it into wine.
I just found my wife has a Tinder profile and I'm furious.
She is absolutely not "adventurous" and "fun to be around"!
I just found out that Jehovah's Witnesses don't celebrate Halloween.
I guess they don't like random strangers showing up at their door.
September 19th Birthdays
1941 – Cass Elliott, 1986 – Song jum-ki, 1965 – Sunita Williams, 1949 – Twiggy
1933 – David McCallum, 1948 – Jeremy Irons, 1980 – John Paul Green, 1969 – Michael Symon
Morning Motivator:
Don't be afraid to go out on a limb. That's where the fruit is.