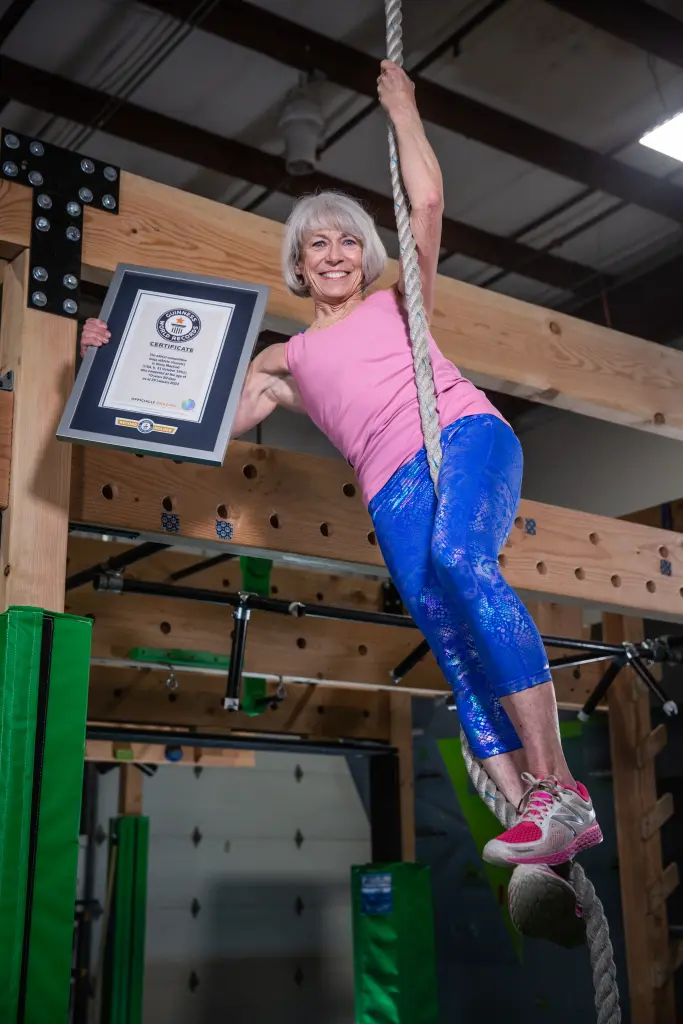 Ginny MacColl, was famous as an actress and former Broadway dancer, back in the days of big production musicals. The demand for dancers in large productions has disappeared. Ginny took pride in staying in shape and went from the bright lights to a domestic existence with her family and grandchildren. Then seven years ago while she was battling osteopenia, a precursor to osteoporosis; her doctor advised her to begin weight training. "I didn't have upper body strength and I hadn't danced in 30 years," MacColl said. "My goal was five pullups. I'm very goal oriented, so I wanted to make an attainable goal and I thought that might [work]. But it took me an entire year to get one." But in no more than two years, she not only reversed her condition but found a new passion in her golden years. You can follow her battle in the video below. She also mentioned that it took her a while to even consider herself an athlete. However, she found herself committed to four cardio, strength training, and obstacle training sessions each week. "I engage in cardio through swimming two to three times a week," she said. Her favorite ninja moves include swinging on rings and climbing ropes, while she considers the salmon ladder and the warped wall to be some of the trickier techniques. By the time she turned 65, MacColl got to a level where she felt ready to enter smaller ninja competitions before attempting to get on the exclusive "American Ninja Warrior" competition show — where her daughter, Jessie Graff, has performed with high marks.
"I fell early on the first obstacle. [It] was just very depressing. I thought I let everybody down and all the fears of doing this came to life," she said. "My daughter said, 'One fall shouldn't define you. Look how far you've come.' It was true: I had gotten much stronger and able to do so many things. My confidence had grown. I enjoyed doing ninja and competitions." Cindy debuted on "American Ninja Warrior" in 2017 and six years later year, she made history as the oldest person to complete an obstacle course. She's still going strong this year and has been making returns on the show, among other major competitions. "I saw that Jesie had this tremendous grace and strength and power, confidence. She was literally showing little girls that it was cool to be strong," Ginny said. "But not only little girls — she also inspired the big ones like me. I looked at that and I went, 'I want to get strong.'"
In addition to being crowned the oldest American Female Ninja athlete at 70 years old, Ginny and Jessie also hold world records for the most consecutive tandem pullups by women, with 14. They also own the title for the greatest distance traversed on crossing hanging rings for a synchronized team, at 144 feet. Ginny is now in the 2024 edition of the "Guinness World Records," she hopes to motivate others her own age. In the seven years she's been doing this, "people have followed me in that time and they have been inspired by the fact that you can do this as you get older and that you can get stronger. It in turn has inspired me to keep going," she said. "You never know what you're going to end up doing when you're in retirement," MacColl said. "I would never, ever thought, I'd be doing so much ninja work, but I love it. I keep wanting to improve and get stronger."
TV Funnies
Normally I hate those trashy, fake, rigged reality TV shows…
But I might watch the presidential debate tonight anyway.
We should have a TV show where illegal immigrants hunt down sex offenders for a chance at citizenship.
We can call it "Alien vs Predator."
How would you describe a bodybuilder who doesn't have six packs?
Abnormal.
A robber comes into the store & steals a TV.
A blonde runs after him and says, "Wait, you forgot the remote!"
September 29th Birthdays
1980 – Chrissy Metz, 1977 – Ninel Conde, 1982 – Kelly MacCreary, 2002 – Chloe Moriondo
1948 – Bryant Gumbel, 1943 – Lech Walesa, 1989 – Kevin Durant, 1907 – Gene Autry
Morning Motivator:
Some pursue happiness, others create it.