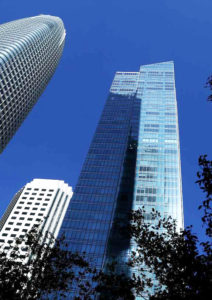 San Francisco's beleaguered 58 story premium apartment building the "Millennium Tower" is sinking sideways. In May 2016, residents in the 58-story high-rise were informed that their luxury condos were sinking. The foundation northwest corner had descended at least 18 inches into the soft ground. The fix has been likened to putting a bumper jack next to a flat tire and involves the installation of piles 250 feet deep along the north and west sides of the tower to bedrock, to be tied beneath the sidewalk to the original foundation. NBC's report says that after 39 of the 52 piles had been installed, something went "seriously wrong." The sudden drop of an inch on the Fremont Street side translates to 5 inches of lean on the 58th floor.  The glassy modernist tower is the tallest residential building in the city. The tower has drawn joking comparisons to the Leaning Tower of Pisa. At its opening the high-rise quickly sold out and had high-profile residents such as the former San Francisco 49ers player Joe Montana, and the Giants outfielder Hunter Pence. People are having meetings to decide what to do next.
Apartment Miseries
I just moved into a new apartment, I asked a neighbor in the same apartment building,
"Bro, you live directly above me & you have the same 2-room apartment as I do.
How many rolls of wallpaper did you buy when you moved in?" "I got 18 rolls," answered my neighbor.
Two months later, I met this neighbor of mine again and told him,
"It's really funny – I fixed the wallpaper on every part of the wall and I still have a leftover of 10 rolls."
The guy smiled, "Yes, so did I."
I told my psychologist I am scared of living in tall buildings
Apparently, it's an Apartment Complex.
Do you know what it means to come home late and being embraced, kissed and loved?
It means you're in the wrong apartment.
I installed a skylight in my apartment.
The people living above me are furious.
August 31st Birthdays
1970 – Deborah Gibson, 1980 – Yara Martinez, 1976 – Sara Ramierez, 1977 – Shar Jackson
1949 – Richard Gere, 1935 – Frank Robinson. 1972 – Chris Tucker, 1987 – Chris Tucker
Morning Motivator:
There is no failure except in no longer trying.