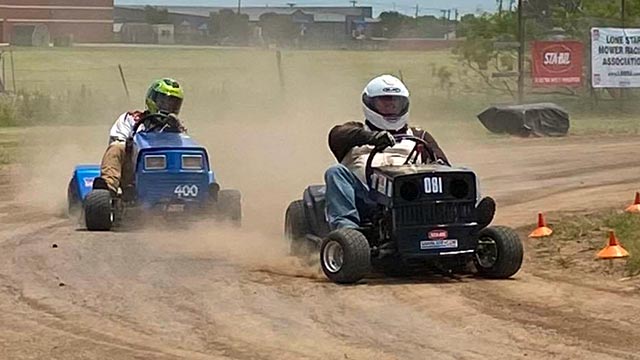 If you think that riding on lawn mowers can't offer much of a spectacle, think again! Fast, fun and furious, lawn mower racing is motorsport (as in the video below) at its most eccentric. As usual, this year the Grand Prix teams will line up in a traditional Le Mans grid formation with the drivers running to their machines at the start. The teams of three drivers (male and female) compete throughout the night at speeds approaching 50 mph – and without an any form of suspension other than a padded seat, this is no stroll in the park! The pace remains unrelenting for the full 12 hours and it's not unknown for the first three mowers to be on the same lap when the checkered flag drops. This is a true test of human endurance and mechanical reliability. As darkness descends, the race takes on a totally different atmosphere as the pit lane becomes a sea of light and the night is punctuated by mower headlamps streaking past. Last year's event saw a new distance record of 354 miles established, so the leading teams will be keen to raise the benchmark still further, although the weather will play a key role as ever.
The modern sport of lawn mower racing has its origins in a meeting of enthusiastic beer drinkers at the Cricketers Arms, Wisborough Green, West Sussex, England one evening in 1973. At the time, motor sport consultant Jim Gavin had just returned from a rally reconnaissance in the Sahara and talk naturally turned to other forms of motor and motorcycle sport. The main point of discussion turned around the horrendously escalating costs involved in all branches of motor sport. So a few beers later, minds began to explore thoughts of an alternative form of motor sport with the main criteria since it is competitive, lots of fun and above all cheap. All mowers themselves are self propelled i.e. they must have engines which move along and must all have been originally designed, manufactured and sold commercially to mow lawns. Mower racing could be the answer to many more would be motor sport enthusiasts who have been put off by the horrendous cost. We are not saying it is a perfect substitute, but having once sat behind a screaming, bucking and almost out of control lawn mower at speeds of up to 35 m.p.h. while in close contact with about a dozen similar machines roaring around a bumpy track in a stubble field, you will have to admit it is an awfully good alternative. Besides the United Kingdom, lawn mower races are held in countries like the USA and Australia and often involve re-modelled (souped up) mowers.
Mower Mowing Memes
I had to buy a new lawn mower today…Trump deported my old one.
I will miss you, Jose.
Why do men buy electric lawn mowers? So they can follow the cord back to their house!
Wife: "Well, I am glad to see the neighbors have returned the lawn mower before they move. They sure kept it long enough." Hubby: "Our lawn mower? I just bought it at their garage sale."
Her husband had a really bad condition of multiple personality disorder…
"Doctor, for the last eight months, my husband has thought that he's a lawnmower."
"That's terrible. Why didn't you bring him in sooner?"
"Because the neighbor just returned him this morning."
August 3rd Birthdays
1941 – Martha Stewart, 1979 – Evangline Lilly, 1981 – Hanna Simone, 1999 – Julia Thomas
1926 – Tony Bennett, 1963 – Isaiah Washington, 1977 – Tom Brady, 1940 – Martin Sheen
Morning Motivator:
When things go wrong, don't go with them.