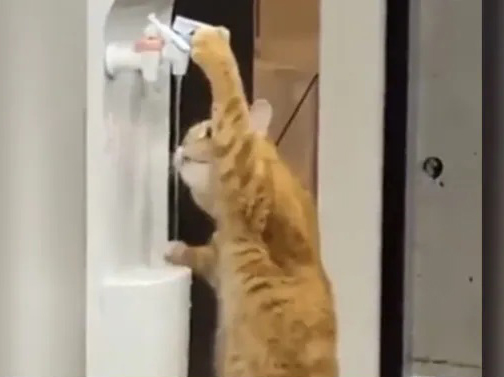 You know your cats are watching you, even if they will not admit it. This particular cat has learned from his humans that getting a cool drink of water is as easy reaching up and pushing the button. The feline stands next to a water cooler and attempts to get water to come out of it. Then he stands up straighter and pulls the tab to drink water gracefully. Just like his master.
Antonio Bosco and his mom have 24 cats in and around their house in Sicily. "Silvestro" is the leader of the cat pack. Like the legendary bandit before him, Silvestro has earned a nickname worthy of his derring-do. To those in the neighborhood, he's known as "Kungu l'eroe," which Bosco explains is a combination of "King Kong and Hero." According to Bosco, the black and white tomcat is definitely in charge. "Silvestro the smart cat is also the undisputed leader and protector of our cats," Bosco told The Daily Mail. It seems that Silvestro's inherent bravado is aided and abetted by a keen sense of intuition. When Silvestro, the leader of the notorious "Kitty Gang," found himself shut out of the home he leaped into action—literally. While being videoed, he launched himself at the door, the prodigious puss managed to grab the door handle and pull it open, allowing his buddies to open the door and come inside. It seems that Silvestro's inherent bravado is aided and abetted by a keen sense of intuition watching the humans. After performing an especially fine feat, Bosco reports Silvestro knows he's going be rewarded with extra loving and treats. "He understands when he's done something special," Bosco said.
Amy Jung credited her 21-pound cat "Pudding" with saving her from the grip of diabetic seizure mere hours after she adopted him from an animal shelter. "If something or someone hadn't pulled me out of that, I wouldn't be here." On the night she brought Pudding home, Jung — who has been living with diabetes since the age of 4 — went to bed at about 9:30 p.m. About 90 minutes later, she started to have a diabetic seizure. That's when, "Pudding planted his weight on her chest and, when he could not wake her, began swatting her face and biting her nose." Jung came to her senses enough to yell out to her son Ethan for assistance. At that point, Pudding jumped up onto Ethan's bed and startled him into action. He immediately rushed in to get his mom the help she needed.
Fountains of fun
I drank from the Fountain of Youth…
Then broke out in acne.
I used to be in a band called 'Missing Cat'
You probably saw our posters.
Cats can learn up to 50 different words and commands
They just don't want to.
Why was the cat so small?
It was brought up on condensed milk.
August 18th Birthdays
1995 – Madeline Petch, 1994 – Maia Mitchell, 1958 – Madeline Stowe, 1998 – Josephine Langford
1970 – Edward Norton, 1992 – Richard Harmon, 1937 – Robert Redford, 1979 – Adam Samberg
Morning Motivator:
If you cannot do great things, do small things in a great way.