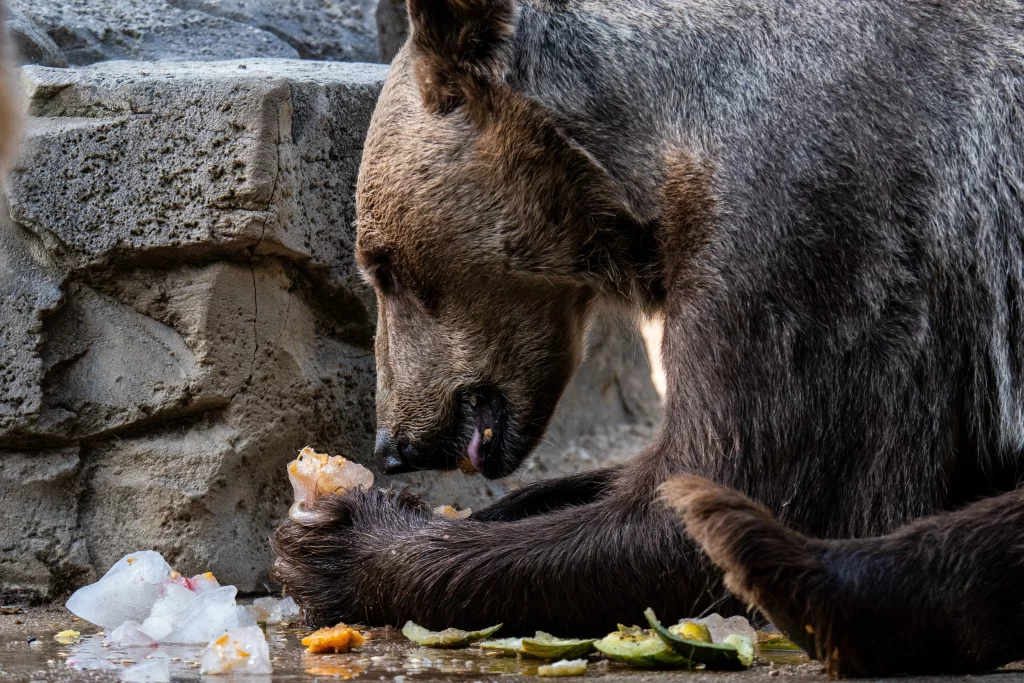 As wide swaths of the U.S. deal with extreme heat this summer, zoos across the country are taking various steps to mitigate its impact on their animals. "Days when it's 99 degrees, for these animals that are used to living in cold environments it makes our job challenging to kind of keep them cool." Stone Zoo is trying to curb the effects of these dangerous temperatures, especially for animals used to the colder weather, such as snow leopards. "What we do with the snow leopards in that situation is they have a holding building that's built into the side of their exhibit, and that holding building is air conditioned." Costello said. Fans have been one of the easiest ways for the zoo's reindeer. Pools have also helped some of the animals. Stone Zoo will refill the pool water each morning for the animals to ensure it's at least 10-15 degrees colder than the water that was sitting there overnight. The zoo will also hose the animals down or mist them with water. The zoo's jaguar, enjoyed a block of ice filled with meat inside earlier this week.
"You can just take a little bit of his diet, which is usually just a little bit of meat, and you freeze it in a five-gallon bucket overnight, and then in the morning, you just put it in his pool," he said. "Most of the animals that can go outside are offered a choice year-round — to go outside or to stay in their indoor exhibit. Most indoor exhibits are cooled with AC in the summer and warmed with heat in the winter," according to a statement from July 25. The Smithsonian also said its giant pandas have air-conditioning and water-chilled grottos, and spend most of their hot days inside because their thick fur makes the heat unbearable. The zoo also fills ice chunks with fruit inside for a cool summer treat. As in the video below: "Many animals are offered fruitsicles as enrichment, which can be particularly refreshing this time of year," the Smithsonian said. "Fruitsicles are popsicles — they are usually diluted fruit juice frozen with cut-up chunks of fresh fruit in them. Gorillas, elephants and other bears enjoy these treats, too," the statement added, explaining that the animals get these treats all year. The zoo also said some of the animals can use their outdoor pools, such as Andean bears, pandas, lions, tigers and otters.
How hot is it?
"It's just too hot to wear clothes today," said Jack as he stepped out of the shower.
"Honey, what do you think the neighbors would think if I mowed the lawn like this?"
"Probably that I married you for your money," she replied.
How hot is it?
The water buffalo at the zoo evaporated.
But if you figure in the wind chill factor, it's only 102.
The trees are whistling for the dogs.
It was a brutally hot Summer day at a miniature golf course, I encountered a father with 3 kids. "Who's winning?" I asked cheerfully. "I am" said one "no, I am," said another. "No," the father said, "their mother is!"
Q: What do you need to visit Death Valley, Arizona?
A: Dental Records
August 9th Birthdays
1985 – Anna Kendrick, 1991 – Adeliade Kane, 1963 – Whitney Houston, 1969 – Gillian Anderson
1967 – Deion Sanders, 1993 – Berkely Duffield, 1991 – Bill Skasgard, 1974 – Kevin McKidd
Morning Motivator:
Ambition is the path to success. Persistence is the vehicle you arrive in.