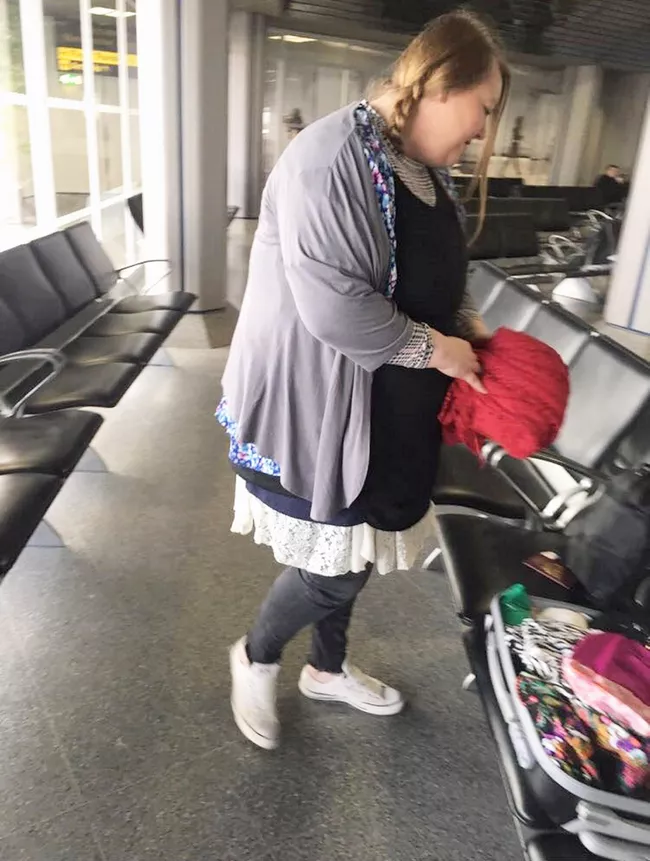 John Irvine, 46, had arrived at the airport in just a t-shirt but was soon bulked up to about 15 layers of t-shirts and sweaters for the flight back to Edinburgh, Scotland. According to son Josh, his father had done some shopping on their trip, leading to the excess weight. "Suitcase is too heavy so ma dad's just putting all the clothes on," Josh captioned his first clip. "About 13 t-shirts down the line," he added, noting that his father was "absolutely bloody roasting." Some of Josh's clothes were in his dad's suitcase but he was too tickled by the videoing the reverse striptease he did not offer to put extra layers on himself. "I was too busy recording him." Eventually, the Irvines made their way to security, but John's unusual appearance caught the attention of Nice, France Airport guards. "They told him to take off some tops, and he kept taking them off because they were wondering what he was hiding," said Josh.
As airlines tighten fees for excess baggage, travelers are increasingly turning to extreme measures to avoid paying. Natalie Wynn got very creative at the airport when the airline tried to charge her for an overweight bag. Instead of forking up the $85 the 30-year-old began pulling clothes out of her suitcase and putting them on her body before she boarded a Thomas Cook Airlines flight. "I didn't want to be using the little amount of money I had just so I could get my bag on the plane," Wynn told the U.K. outlet. "I literally said, 'I'm not paying it', and started putting my clothes on." Wynn said that she ended up wearing seven dresses, two pairs of shoes, two pairs of shorts, a skirt and a cardigan, and was a little warm while she boarded the plane, which was departing from Manchester, England. "I felt like I was going to pass out because it was so warm," she said. "As soon as I got on the plane, I took it all off and put it back in my case."
She claims that her suitcase was nearly 8 pounds over the permitted weight, and the fee was $85. "Because I had booked an all-inclusive holiday, so was getting all my food and drink, I didn't plan on bringing much money with me," she said. Even the airline credited her for her creativity, as a spokesperson told "PEOPLE:" "Natalie's ingenuity here is noted! The good news for Natalie and the rest of our customers, is that later this month we are increasing our carry-on allowance to 18 pounds.
Extra charge jokes
To all the people who type "u" instead of "you" …
What exactly do you do with all the extra time you saved?
A recent study has found that women who carry a little extra weight live longer
than the men who mention it.
My seatmate on a flight was a woman. Ever the charmer, I asked, "Does the airline charge you extra for sitting next to good-looking men?"
"Yes," she said, "but I wasn't willing to pay."
Q: What does daylight saving time mean in Seattle?
A: An extra hour of rain.
August 5th Birthdays
1998 – Olivia Holt, 1999 – Mimi Keene, 1957 – Maureen McCormick, 1968 – Marine LePen
1998 – Adam Irgoyan, 1962 – Patrick Ewing, , 1990 – Patrick Reed, 1930 – Neil Armstrong
Morning Motivator:
Start believing in yourself, the world will automatically believe in you.