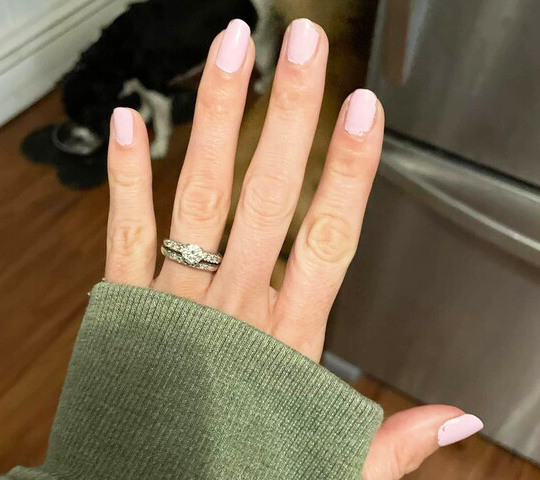 29-year-old Francesca Teal of Massachusetts had been wearing the family heirloom ring on her finger while she was tossing a football around with her husband this month on North Beach in Hampton, New Hampshire. Neal said once the ring slipped off her finger, she and her husband spent hours searching in the water for it — with no luck.— she figured: "That's it. She'd never see it again." They still went back the next day with no luck, so she put an appeal out on social media. "It is a family heirloom from my great-grandmother," her message said. She added, "Just hoping that if someone does happen to find it, it can make its way back to me." Francesca said she appreciated, "All the help from those on the beach who helped looking for the ring today as well. It has been so amazing to witness humanity in this positive way & has brought so much faith to myself & others."
But it took the kindness of a stranger — actually, many strangers — to help her get the ring back this month. Teal posted about the ordeal asking anyone who might frequent the beach with a metal detector to be on the lookout. Her post was shared thousands of times and got the attention of a man named Lou Asci. Lou Asci strapped on a wetsuit and a headlamp — and went looking for the ring. During his first two days of looking he found nothing. "I wanted to go back and give it one last shot.""I don't take failure all that well," Asci said. Finally, he discovered the ring buried beneath the sandy ocean floor. He sent Teal a picture of it, writing in a message, "Please tell me this is the ring so I can finally get off this beach," the AP noted. Once he heard back, Asci returned the ring to Teal's home. And then her husband got on one knee to place it back on her finger. How is that for good folks?
A familiar ring:
Someone stole my mood ring yesterday.
I still don't know how I feel about that.
My husband, being unhappy with my mood swings, bought me a mood ring the other day so he would be able to monitor my moods. We've discovered that when I'm in a good mood, it turns green. When I'm in a bad mood, it leaves a big red mark on his forehead. Maybe next time he'll buy me a diamond.
Today I gave a homeless man everything I had, my identity, wallet, car, house, even my wedding ring. We basically switched places.
You can't imagine how good it felt to be free of debt for the first time.
What do you call a Detroit Lions player with a Super Bowl ring?
A Thief
August 22nd Birthdays
1996 – Lulu Antariksa, 1960 – Debbi Peterson, 1947 – Cindy Williams, 1974 – Kristen Wiig
1993 – Keith Powers, 1941 – Bill Parcells, 1939 – Norman Schwartzkopf, 1964 – Trey Goudy
Morning Motivator:
If you want something you have never had,
you are going to have to do something you have never done.