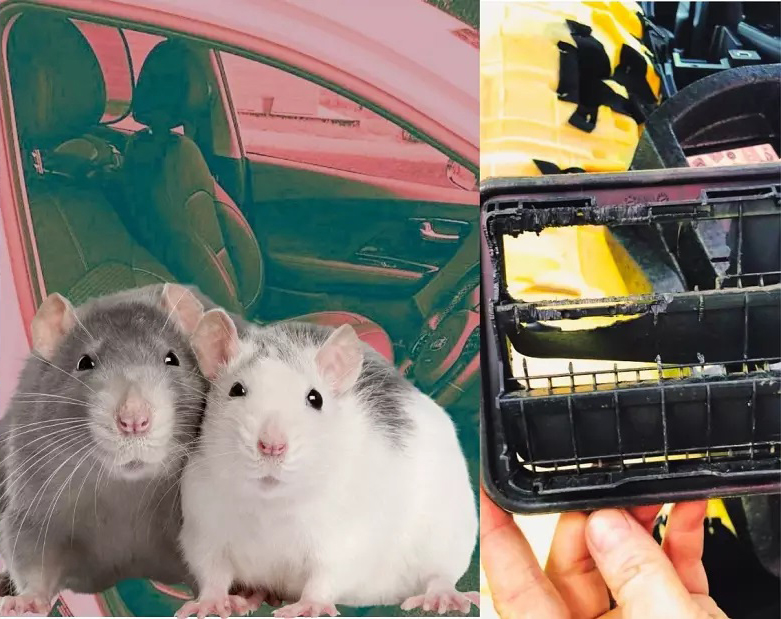 When Samil Sanal started his electric car for a regular day of work as an Uber driver all the lights on his dashboard began blinking. "System failure," the car said. He never would have guessed what was going inside of the $50,000 EV. Deep in the entrails of Sanal's Kia e-Niro, an electric crossover, one or several rodents had gnawed away at big chunks of wiring, causing more than $7500 in damage that neither the car's warranty nor his insurance will cover. "Rodents made a picnic out of the Kia," Emma Sanal, his wife, told Euronews Next. The couple and their two children live near Lyon, France, in a house with a garden close to the Rhône River. Two older cars parked outside right next to the Kia were left unscathed, they said. Mice or rats nesting in a warm vehicle is not a new phenomenon, but car dealers and owners suspect new environmentally friendly materials used in auto parts may be attracting more wildlife than before. Kia France said that while the company sympathizes with the Sanals, its warranty won't cover the damage done to their car because it results from "an external attack." "This issue is rare but known to all the players in the auto industry," a spokesman said.
Some insurers have in fact recently changed the terms of their insurance policies and provide tips to prevent this kind of damage, such as keeping the car clear of food items, the spokesman said. "Most auto manufacturers use the soybean vs. oil based plastic around their wires for newer vehicles because it is less expensive and better for the environment." Tesla service adviser Jose Solis wrote in an email to Tesla owner Sarah Williams that she shared with The Post. "The use of this material would not be considered a 'defect' in design or use … Considering there are too many factors outside of Tesla's control we cannot cover this under a warranty or repair." Automakers have been getting slammed for years with complaints of their allegedly rat-friendly soy-based wiring. And like Tesla, they have all refused to cover the damage, claiming that rats chewing on car innards is the result of nature and therefore not their problem. At the dealership, "They opened the glove compartment and a rodent fell out," said Manhattan Tesla owner Sarah Williams. "For me, if I'm going really fast on the highway and I reach for something in my glove compartment and a rat crawls out, it could be a catastrophe," she said. "Who cares if you have this great technology if a rat is in there eating the wires?"
Rodent Revenge
What do a man with diarrhea and an electric car owner have in common?
They both hope to make it home.
In 2025 Apple plans to make an electric car.
I am just wondering if the car will have windows?
When driving an electric car, never turn onto a dead end street.
You'll be stuck on a road with "No Outlet."
Why did Elon name his electric car the "Tesla?"
Because "Muskmobile" didn't pass the smell test.
August 1st Birthdays
1818 – Maria Mitchell, 1973 – Tempest Bledsoe, 1970 – Jennifer Gareis, 1995 – Mary Jo Wilson
1936 – Yves St. Laurent, 1931 – Ziggy creator Tom Wilson, 1989 – Max Carver, 1942 – Jerry Garcia
Morning Motivator:
The first step to getting the things you want out of life is this:
Decide what you want.