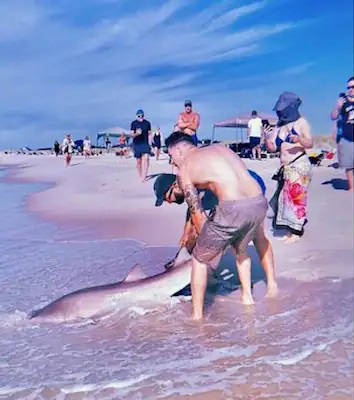 John and George were at the Smith Point Beach on Fire Island, New York, where two shark attacks took place just last month. To break up their beach tanning they decided to throw some lines into the surf and see what they could catch. They did hook something and John pulled and reeled and reeled and pulled to get the fish closer to the beach. Once he saw what he had he knew he did not want it. It was a Sand Tiger shark about 4 foot long and in NY state that is a protected species. Now what does he do? The shark is in the surf, but if he cuts the line the fish will have a hook and line attached potentially killing it. So John decided to do what any good fisherman would do.
He went into the surf to bring the shark out. (Let the video below begin.) That turned out to be a really challenging task as George held onto the line, John waded out and danced in the shallow water trying to avoid being the shark's next bite. As you can imagine the dynamic duo drew a crowd and a videographer as they struggled to get the wounded predator to shore. Naturally, NY also has a rule that you can't drag a shark to shore either, but John was on a mission. After a few tense moments of tug-of-war with the shark, however, he finally got close enough to the shark to grab by its tail and drag it up the beach. "Holy s**t," Murray said as she was taking the video. Photos attached to the post show the John holding the shark still as another angler uses bolt cutters to remove the hook. In a statement to Newsweek, Murray said she watched the men release the shark back into the ocean after the hook was removed. Another fish was saved and another fisherman immortalized.
Just a Day at the beach
I have a hobby…I have the world's largest collection of seashells. I keep it scattered on beaches all over the world. Maybe you've seen some of it
I told my friend I was attacked by a shark.
He asked, "Did you punch it on the nose?"
I said, "No, it just attacked me for no reason."
Probably the worst thing you can hear when you're wearing a bikini is "Good for you!"
When we moved to El Paso from the Jersey shore we got used to and even liked to change of scenery. We liked the wide vistas all around and the beautiful sunsets. A native Texan asked us what we thought of the country. We told him we liked the climate, but we missed the beach. With a broad sweep of his hand he said, "We have lots of beach around here, we just need an ocean."
August 26th Birthdays
1910 – Mother Teresa, 1971 – Melissa McCarthy, 1989 – Danielle Savre, 1970 – Thalia
1980 – Macaulay Calkin, 1992 – Dylan O'Brien, 1960 – Branford Marsalis, 1989 – James Harden
Morning Motivator:
I will find a way, or I will make a way.