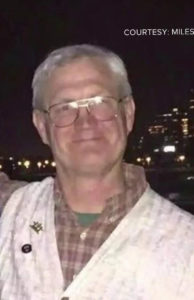 Jonathan Ceplecha, 59, was cutting down oak trees near Redwood Falls, Minnesota when one he had trimmed fell on his legs trapping him. He was found Monday in a ravine about 100 yards from his house with both of his legs pinned. Deputy Mark Farasyn responded after getting a call Monday afternoon asking for a welfare check since Jon hadn't shown up for work, according to Farasyn. They began searching the rugged property with help from his ex-wife and daughter. Farasyn said Jonathan was conscious and surprisingly alert after being found. Asked how long he'd been there, Ceplecha responded "100 hours," without hesitation. It took about two hours to free Ceplecha, who teaches English at an alternative high school in Marshall. He was airlifted to a hospital, where he was in stable condition. "He had the will to live, and he wasn't ready to go," Jonathan is an Iraq War veteran and his training probably helped him survive.
The Trees are alive
When I see lovers' names carved in a tree, I don't think it's sweet.
I just think it's surprising how many people bring a knife on a date.
A lumberjack went into a magic forest to cut a tree. Upon arrival, he started to swing at the tree. It shouted, "Wait! I'm a talking tree"
The lumberjack smiled, "and you will dialogue."
In my career as a lumberjack, I cut down exactly 82,546 trees.
I know, because I kept a log.
What did the surprised oak tree say to the math professor?
Ge-om-e-try.
September 8th Birthdays
1972 – Brook Burke, 1979 – Pink, 1991 – Dianne Doan
1972 – Martin Friedman, 1925 – Peter Sellers, 1157 – Richard the Lion Hearted
Morning Motivator
It is not because things are difficult that we do not dare, it is because we do not dare that they are difficult.
A real Outdoorsman