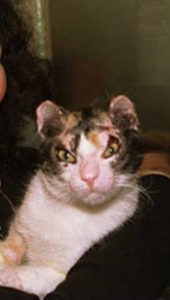 Scarlett the cat, a calico was a hero who drew worldwide acclaim after rescuing her five kittens from a Brooklyn fire. "She was the most precious and loving cat, and in our household, it was all about Scarlett," said her owner, Karen Weller. Scarlett's ascension to stardom began in an abandoned Brooklyn garage, where she was tending her litter of five when a fire broke out in March. Firefighters spotted Scarlett, despite burns to her eyes, ears and face, toting each kitten out of the building to safety. Once outside, Scarlett nudged each baby with her nose to make sure she found all five. The hero cat was taken to the North Shore Animal League with her offspring – and their story soon attracted attention from around the globe. In her new Brooklyn home, Scarlett was top cat. Four of her five kittens survived the blaze and they were adopted in pairs.
It might be better in Brooklyn
"Brooklyn is filled with people who came from all corners of the earth to experience the world, but refuse to go to another borough."
How do you get 2 million followers?
Run around Brooklyn with a Popeye's chicken sandwich
"We resent tourists. Most of us were once tourists. We resent the fact that you can still leave."
"Doctors at a hospital in Brooklyn, New York have gone on strike. Hospital officials say they will find out what the Doctors' demands are as soon as they can get a pharmacist over there to read the picket signs!"
September 17th Birthdays
1956 – Rita Rudner, 1990 – Danielle Brooks, 1997 – Ella Purnell
1992 – Jordan Connor, 1976 – Jimmie Johnson, 1997 – Marquiz Rodriquez
Morning Motivator
A man is not old until regrets take the place of dreams.
Mother Love in action