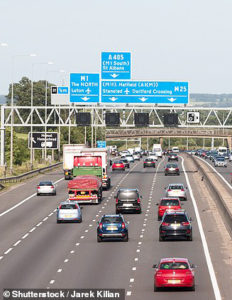 We have all seen or heard prat falls by folks using their cellphone more than their brain. In Surrey England on Saturday, police reported that an unnamed person was "hanging out the car whilst filming a Snapchat video." The car was driving down M25, South of London, when the incident occurred. Police wrote that the passenger, "fell out the car into a live lane." "It is only by luck she wasn't seriously injured or killed," the Roads Policing Unit added. They also included a picture of the passenger window where the woman had fallen from with the hashtag. Even without an arrest, police hope that others will learn from the incident. When asked if the police ever told passengers of the "errors of their ways," they responded with, "Every chance they worked it out before we spoke to them about it!" Statistics shows that 259 people around the world died between while taking selfies.
Snappy fone foibles
Me and the girlfriend were sitting on the couch, with my cell phone in my hand and her watching her show. I asked her if she could get me a beer and she said no. Then her cell phone rang in the kitchen and she quickly got up to see what it was. My message said, "while you're in the kitchen can you get me a beer. I don't remember the rest…"
Whoever said, "a picture is worth 1000 words," never saw 4 people at a table Snapchatting a plate of hummus.
Before smart phones, if you were obsessed with yourself you just stood in front of a mirror. Now it's called Snapchat.
Snapchat is a great way to become really disappointed in your normal face.
"Find me through my podcast, Instagram, Facebook, Twitter, YouTube, Flickr, Snapchat, Tumblr…"And they called the 80's the Me Generation?
September 23rd Birthdays
1961 – Elizabeth Peña, 1967 – Lisa Ray McCoy, 1984 – Anneliese Van Pol
1930 – Ray Charles, 1943 – Julio Iglesias, 1987 – Skylar Astin
Morning Motivator
"Freedom is not worth having if it does not include the freedom to make mistakes."
Snapchat almost claims another victim