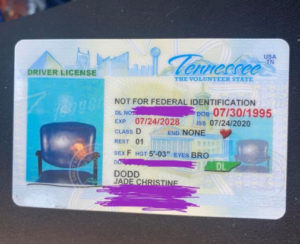 Jade Dodd renewed her driver's and sometimes the license photos are not what you expect. She got her new license in the mail and was surprised to see the photo wasn't a picture of her. It only showed an empty chair. "The lady at the DMV did not really believe me when I was like 'Hey, I need my license fixed,'" Dodd said. Jade wasn't upset by the mistake. Instead, she said it lightened the mood amidst the coronavirus lockdown and provided her and her coworkers with a few laughs. "My boss thinks it's funnier than anyone," Dodd added. "I was at work Friday and he pointed to a chair outside of his office door and was like, 'I thought this was you, I waved at it this morning.'" There was also one that joked Violet from Disney Pixar's" The Incredibles" had gotten her license because her character is able to render herself invisible in the film.
Licensed laughs
Judge: "Why did you steal the car?"
Man: "I had to get to work."
Judge: "Why didn't you take the bus?"
Man: I don't have a driver's license for the bus.
Good news, you can't get infected if you don't have a license
It's only a Car-ownavirus.
Fall is the most beautiful time in Florida, really…
All the license plates start changing colors.
Today you need a driver's license to pay cash.
Arguing with a woman is like reading a software license agreement
In the end you ignore it all and just click to agree
September 15th Birthdays
1989 – Chelsea Kane, 1890 – Agatha Christie, 1986 – Heidi Montag
1946 – Tommy Lee Jones, 1961 – Dan Marino, 1978 – Tom Hardy
Morning Motivator
Nothing can stop the right mental attitude from achieving its goal; nothing can help the wrong mental attitude.
License to sit and maybe stay