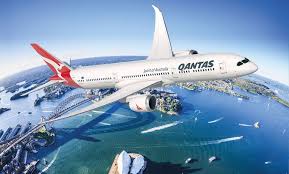 Qantas announced that a seven-hour scenic "flight to nowhere," which will take off and land at the same airport amid interstate travel restrictions during the coronavirus lockdown, sold out in 10 minutes. The unusual flight is scheduled to depart from Sydney and return on the same day, promising passengers low-level scenic views over Uluru and the Great Barrier Reef, among other spots. Buyers quickly snatched up seats, priced between $575 and $2,765 depending on the seating class. Passengers are set to travel on a wide-body Boeing 787, normally used for long-distance international travel. "It's probably the fastest selling flight in Qantas history." Airlines in Taiwan and Japan recently conducted similar flights to provide customers with the pleasures of air travel.
Get away laughing
I couldn't decide whether to go to Salt Lake City or Denver for vacation, so I called the airlines to get prices. "Airfare to Denver is $300," the cheery salesperson replied. "And what about Salt Lake City?" "We have a really great rate to Salt Lake—$99," she said "But there is a stopover." "Where?" "In Denver," she said.
While we were in England, we stayed at an inn known as St. George and the Dragon. A tramp knocks on the door and the landlady answers. "Could you give a poor man something to eat?" asks the tramp. "No!" yells the woman, slamming the door in his face. A few minutes later, he knocks again. "Now what do you want?" the woman asks. "Could I have a few words with George?"
A young couple are trying to save money on their summer vacation.
They bring their bags to the discount airline desk to check in.
"Do you have reservations?" asks the woman behind the counter.
"More than a few," the young man answered, "but we're flying with you guys anyway."
September 21st Birthdays
1967 – Faith Hill, 1991 – Christian Serratos, 1981 – Karina Kapoor, 1981- Nicole Richie
1963 – Nick Knowles, 1950- Bill Murray, 1947 – Stephen King
Morning Motivator
Your success is in direct proportion to the service you give.
Gotta get away?