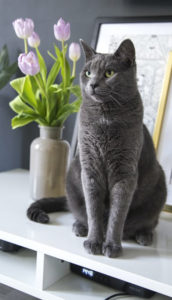 People have been mystified for centuries about how cats and dogs feel about life and their masters. Universities and private companies are now developing, testing and selling solutions for this heart rending concern. Javier Sanchez, a technical program manager at Akvelon, has built a cat translation app called "MeowTalk." The Petpuls collar can tell through a smartphone application if their dogs are happy, relaxed, anxious, angry or sad by monitoring their barks using voice recognition technology. The collar also tracks dogs' physical activity and rest like a Fitbit. The collar has a 90 percent average accuracy rate of emotional recognition, according to Seoul National University. "Petpuls helps owners understand how dogs feel and increases their bonding." Dr. Con Slobodchikoff professor at Northern Arizona University is working on an instrument powered by artificial intelligence to learn and translate animal's vocals and facial expressions into simple English.
AI Answers nagging questions
Scientists say the universe is made up of Protons, Neutrons, and Electrons. They forgot to mention Morons.
Maybe if we start telling people the brain is an app they will start using it.
Support bacteria – they're the only culture some people have.
English is hard to learn. It can be understood through tough thorough thought, though.
January 14th Birthdays
1967 – Emily Watson, 1967 – Kerri Green, 1998 – Isabella Souza
1990 – Grant Gustin, 1970 – Jason Bateman, 1949 – Carl Weathers
Morning Motivator
Vision is not enough, it must be combined with venture.
Talk to the Animals