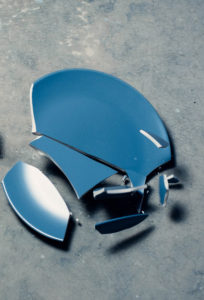 The Haddon Township High School evacuated the school on January 8. The order was to protect the students from radiation bought to the school by a student. "Local police, fire, and a hazmat team arrived on the scene and immediately secured the building." Luckily, no one got injured in the rush out of the building – or got radiation sickness. The hazmat team identified and removed the offending object, news outlets discovered was a dinner plate. Apparently, a student received a Geiger counter as a Christmas present. To test the gadget, the student and his parents went to buy a "Fiestaware" plate from an antiques store. These plates were glazed with Uranium Oxide in the 1950's when folks thought that everything in the future would be nuclear. The plate set the Geiger counter off. "The hazmat alert was triggered today when a school administrator realized the science class toy was radioactive!"
Glowing reports from the High school
If your friend makes you feel sick, they're probably toxic.
If they give you a tingly feeling, they're probably radioactive.
The other day, I got bitten by a radioactive lawyer…
…I now have the power of attorney.
If you wear a radioactive belt…
…do you end up with nuclear waist?
I quit my job at the radioactive waste treatment plant.
It was a toxic work environment.
What crosses the road and glows: Chicken Kiev.
January 11th Birthdays
1988 – L'Esperance quintuplets, 1977 – Amanda Peet, 1971 – Mary Blige
1757 – Alexander Hamilton, 1842 – William James, 1989 – Jedidiah Goodacre
Morning Motivator
Live today. Not yesterday. Not tomorrow. Maximize your moments.