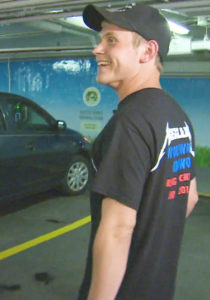 Nineteen-year-old Gavin Strickland went to a Metallica concert at Toronto's Rogers Center the was forced to park his Nissan Versa sedan several miles away and take a cab to the show. When the show ended, though, he couldn't remember where the garage was. Gavin spent two days looking for the car—even enlisting help from the police—before taking a Greyhound bus home to Syracuse, NY. Undaunted Strickland's father posted a Craigslist ad offering a $100 reward to anyone willing to track the vehicle down. "It is near a Starbucks where there is some construction going on. Also nearby is allegedly a strange spiral outdoor sculpture, and possibly a bank- maybe RBC?" Luckily, Toronto is home to amateur sleuth and escape room enthusiast Madison Riddolls, who went hunting for the car after she saw the Craigslist post. "I love puzzles, I love challenges and all that. I read a few clues about where it could be and it honestly excited me," she told CTV News.
I thought I …duh!
I forgot to take my phone to the bathroom with me
There are 1325 vertical and 975 horizontal lines on the wall tiles.
In every X-Men movie Wolverine looks at his claws like he forgot he had them and then he gets really, really mad.
The guest hailed the bell boy and said "Here is $10, take this key, and see if I forgot my briefcase on the bed in 515. I have to catch a cab." In a couple of minutes the bell boy came back and reported, "Yes sir, it is up there."
Two days ago I was trying to make a coffee in the morning but had no water. Instead of water I used RedBull to make my coffee… long story short, when I got to work realized I forgot my car.
January 15th Birthdays
1997 – Valentina Zenera, 1997 – Dove Cameron, 1984 – Regina King, 1987 – Kelly Kelly
1969 – Chad Lowe, 1985 – Ben Shapiro, 1979 – Drew Brees, 1929 – Martin Luther King, Jr.
Morning Motivator
Where hope grows, miracles blossom.
I know I parked it in a safe place…