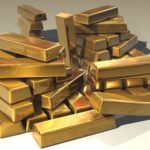 A Nimbus Airlines Antonov AN-12 cargo plane was carrying 9.3 tons of gold and silver was taking off from Yakutsk Airport in Siberia. Somehow the cargo door came open and showered the runway and the surrounding area with gold bars. The Siberian Times reported that some of the bars were found as far as 16 miles from the airport. Officials cordoned off the area to prevent people from stealing the bars, and one official said only 172 gold bars had been found with another saying all the bars had been recovered. The plane returned to the airport after the cargo door had been partially torn off. The precious metals had come from the Kupol mine operated by Canadian mining company Kinross Gold. "I will go to search at night when guards will be sleeping," a local man told The Siberian Times. "One bar — and I could pay off all my debts," he said. The Siberian Times said it was reported that all flights to Yakutsk were overbooked as people joined the gold rush.

Gold Bars scattered on the runway
All that glitters
A Nigerian man was found dead in his house with $45 million in gold.
He had spent the last 10 years trying to share it, but no one replied to his emails.
A banker approaches the pearly gates sweating and struggling with a very heavy suitcase. St. Peter greets him and says "Set down the suitcase and, come on in." "No way," barks the banker, "I have to bring it in with me." "What could possibly be in the suitcase that is so important you brought it into eternity with you?" asked Peter. The banker opens the suitcase to reveal 50 gold bricks. Saint Peter's jaw drops open and he asks, "You brought pavement?"
Russia gave all of its gold medalists from the Sochi Games $120,000 plus a brand-new Mercedes SUV.
While the silver and bronze medalists all received life in prison.
Policeman: Why didn't you yell for help when you were robbed of your wallet and phone?
Victim: If I had opened my mouth, they'd have found my four gold teeth. That would be much worse.
January 12th Birthdays
1955 – Kirstie Alley, 1985 – Issa Rey, 1984 – Jessie Graff, 1968 – Racheal Harris
1951 – Rush Limbaugh, 1930 – Tim Horton, 1977 – Piolo Pascual
Morning Motivator
There are always flowers for those who want to see them.
Gold bars from Heaven