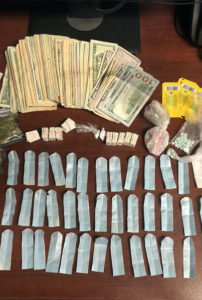 Criminals generally are not very organized or thorough. Some people believe this hobby attracts folks who don't have the metal-emotional ability to cope with stressful real life. Two upstate New York men seem to fit this description. Apparently, they had been on an out of state shopping spree with a rented car. Excited about their purchases they gleefully dropped their rental off at the kiosk at the Albany, NY airport. Unfortunately, in the glee they forgot to take their purchases with them and the staff called police when they found a sizable collection of street drugs. When the men returned to claim their cargo they were arrested. The deputies interviewed Aasim Hilts and then allegedly found he was in possession of 140 glassine envelopes of heroin, more than 35 grams of MDMA, 62 counterfeit oxycodone pills pressed with fentanyl, 10 suboxone strips, marijuana and cash over $5,600, according to the report.
The drugs made me do it
As two men waited in line at the coffee shop to pay their bill, a third cut in front of them. He threw a drink at the clerk and demanded all the money from the till. Temporarily surprised, the men quickly recovered and handcuffed the crook. Apparently, in his rush the criminal didn't notice they were police officers—in full uniform.
When police in Vancouver, Canada, asked to search Jason Pauchay's apartment for drugs, he was not a suspect—in fact, they were looking for someone else. That all changed when they got a look at how his name was listed on his cell phone: "Jason Pauchay Drug Dealer."
What's the difference between Smart Criminals and Dumb Criminals?
Dumb Criminals break laws
Smart Criminals make laws
Two criminals are walking in the woods late at night.
It's especially dark tonight, and the wind is howling.
After a while, one of the criminals leans over and says "Its pretty scary out, huh?"
His partner tells him "How do you think I feel? I have to walk back alone."
January 19th Birthdays
1991 – Erin Sanders, 1946 – Dolly Parton, 1982 – Jodie Sweetin
1994 – Josh Dylan, 1809 – Edgar Allen Poe, 1971 – Shawn Wayans, 1992 – Logan Lerman
Morning Motivator
You are not your circumstance, begin today to make a better tomorrow
Don't count your chickens before…