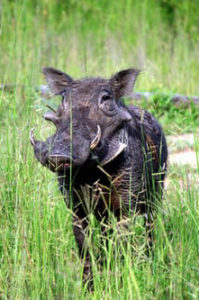 Wild boars or feral pigs are a big problem in many parts of the world. In some parts of Europe they eat farmer's fields, attack dumpsters and trash cans and even people that get in their way. Italy's wild boar population of 2 million has doubled since 2015 — and caused or affected 10,000 road accidents per year. In Montepulciano, Italy there was a swampy area that was thoroughly infested with so many boars that people would not even go around there. So, a great place to stash your cocaine until you can sell it. Police had wiretapped one gang's phones and were almost laughing as they listened to three Albanian suspects and one Italian complain that their $22,000 stash had been violated by wild boars. The pigs tore open the plastic wrappers and what they did not eat they spread all around the swamp. Now even the gangsters don't like these pigs.
Boaring Humor
Last week I was telling my husband about how some religions believe that when you die you get reborn, but as a totally different animal. He said he thought he'd like to be reincarnated as a pig. I said, "You evidently weren't listening."
What do you call a laundromat for pigs?
The Hogwash.
A hunter went out on a hunting trip. He took his sons "cigarettes" by mistake.
He had an excellent day. He shot 2 bucks, a boar, a black bear, and a unicorn.
So, we were at the "Hogs Breath" Tavern and they have a stuffed boar's head as you enter the restaurant. My father quips to the waiter as we are being seated "That hog must have been going really fast when it hit the wall."
February 3rd Birthdays
1976 – Isla Fisher, 1982 – Bridget Regan, 1965 – Maura Tierney, 1980 – Maitland Ward
1995 – Thomas Janson, 1970 – Warwick Davis,  1981 – Jose Antonio Vargas, 1956 – Nathan Lane
Morning Motivator
If you limit your desires to what seems reasonable or possible, there is left nothing but a compromise.