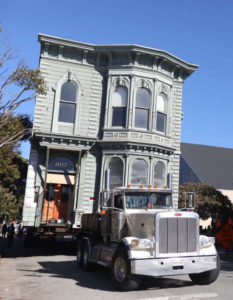 Many of us know moving can be a chore, but San Francisco broker Tim Brown decided not to pack. The house was going to be torn down to make room for a new apartment building so Tim decided to move the two-story Italianate-home, built in 1880. It took hundreds or permits and approvals. Additionally, moving a whole house through narrow city streets is far from easy. City agencies removed droves of parking meters, streetlights, and power lines to keep the house from wrecking them as it passed by. Finally, after eight years of planning, work could begin. The morning had an almost celebratory feel, with onlookers cheering as the house moved inch by inch. Known as the Englander House, it began traveling south down Franklin Street to Golden Gate Ave around 7:20 a.m. It turned right to travel west to Laguna Street, making its final turn onto Fulton where it will be nestled. Joy Mover's team started lifting the house up onto a gigantic mechanical dolly sometime around 6 a.m. on February 21. At 7:20, the house was up and ready to start moving. Slowly, at around one mile per hour, the dolly started crawling through San Francisco. Brown reportedly spent roughly $400,000 of his own money to get the building shipped. Now, the 139-year-old house is ready to be converted into seven apartment units.
Moving laughter
My friend's nanotechnology company is doing so well they are thinking of moving to smaller quarters.
After the election, I'm moving to Greenwich, England
I don't know what I'll do in the mean time.
While I was walking in the woods, I found two badgers in a suitcase. I called the RSPCA. They asked, "Are they moving?"
I said "Well, that would explain the suitcase…"
"I'm moving to Mars next week, so if you have any boxes…"
Q: Did you hear the Kansas City chiefs are moving to the Philippines?
A: They are going to be called the Manilla Folders!
February 25th Birthdays
1997 – Isabell Furman, 1966 – Tea Leoni, 1992 – Amy Ruffle
1987 – James Phelps, 1971 – Sean Astin, 1991 – Tony Oller, 1965 – Carrot Top
Morning Motivator
Pain is temporary. Quitting lasts forever.