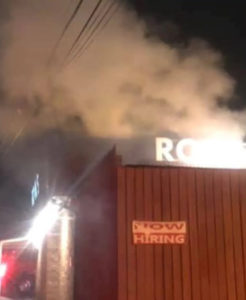 It was 2 am and a civic minded neighbor was driving through Clemmons, NC when he saw smoke pouring out of the roof of Ronni's Pizza. Naturally, he called the fire department. Ronni's had been around for over 27 years and is known as "Home of the Buffalo wings." Both the Clemmons and the Lewisville fire departments came to the early morning rescue. It turned out that Ronni's had an order for 10,000 chicken wings for Sunday and they were getting an early start. They had even rented a refrigerated truck to hold the food until they could cook it. Afterwards, the restaurant put out a message on social media: "Contrary to what's spreading across Facebook, we DID NOT have a fire at Ronni's last night! We DID have an unexpected visit from the fire departments. They made sure all was well, we fed them, and got a few laughs and a great picture. Thanks for all you do for our community!" Ronni's wasn't the only restaurant preparing chicken wings for the Super Bowl. The National Chicken Council predicted that Americans would eat a record 1.42 billion chicken wings on Sunday.
Getting hot over wings
Bob's first day in heaven:
God: You're about to get your wings!
Bob: Lemon pepper or BBQ ?
God:. Get out.
What do you call a chicken with no legs and no wings?
A chicken nugget
Do you like ribs or wings?
I like them both I am bi-snackual
How hot are those wings?
They were so hot that I dropped one inside my shirt and I now have two belly buttons.
February 10th Birthdays
1991 – Emma Roberts, 1967 – Laura Dern, 1989 – Emily Morris, 1985 – Elizabeth Banks
1984 – Zaza Pachulia, 1955 – Greg Norman, 2001 – Aedan Duckworth
Morning Motivator
If our thoughts become things…then choose the fantastic, amazing and awesome ones.