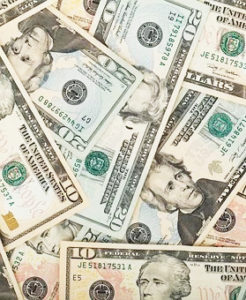 Talk about not watching your check book…one of the largest commercial banks in the world paid the creditors of its client, Revlon nearly a billion more than they wanted to. Now a judge says that Citi made the mistake and should have to live with it. Well so far, not all of it. The judge said $500 million that Citi mistakenly wired to creditors on behalf of Revlon can stay with Revlon's creditors. Judge Jesse Furman of US District Court in New York calls "one of the biggest blunders in banking history," Citibank wired nearly $900 million of its own money to the creditors. "The resulting payments equaled—to the penny—the amounts of principal and interest that Revlon owed on the loan to its lenders," Furman found that the lenders who received the payments reasonably believed that Citibank was paying off the loans and did not suspect the money was sent in error. "To believe that Citibank, …had made a mistake that had never happened before, would have been borderline irrational," With an appeal on the horizon, Judge Furman kept a temporary restraining order on the funds in place to prevent the lenders from using it. Stay tuned and double check your numbers.
Found Money
20 years ago we had Bob Hope, Johnny Cash, and Steve Jobs.
Now we have no Cash, no Jobs and no Hope. I really hope Kevin Bacon doesn't die.
Nigerian man found dead in his flat with $45million cash.
He spent the last 10 years trying to share it, but no one replied to his emails.
My wife and my banker have something in common.
Neither of them will give me credit.
Why is it if banks have become so smart that they can allow you to deposit a check from a picture, but they won't let you do the same thing with a picture of cash?
February 19th Birthdays
1985 – Ariel Kebbel, 1985 – Haylie Duff, 1993 – Victoria Justice
1940 – Smokey Robinson, 1997 – Joe Maw, 2001 – David Mazouz
Morning Motivator
We are what we repeatedly do. Excellence, then, is not an act, but a habit.