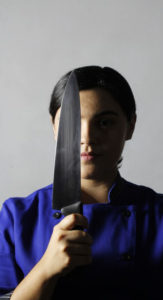 Juan N. was reportedly found by police with multiple stab wounds on his arms and legs. Upon questioning he related a domestic violence story that is painfully ironic. Allegedly, Juan was looking through some old computer devices. Among the files were some videos of he and his wife Leonora engaged in some very heavy duty physically, romantic behavior from earlier days. He decided to copy the files to his cell phone. For some reason Leonora was looking through her husband's phone files and came upon the pictures. She grabbed a kitchen knife and attacked her husband stabbing him several times before he could wrest the weapon away from her. After she was restrained Juan asked her what was going on and she responded he was a good for nothing, cheating spouse, etc. Juan then explained that the woman on the phone she was jealous of was her 20 years before. According to the report his wife apparently did not recognize herself because she was younger, thinner and had makeup on. She remains behind bars pending charges. Juan is expected to be fine.
Sorry, my mistake
My father looked me in the eyes and sagely advised,
"Son, find a girl with an embarrassing tattoo and try to convince her to marry you."
"She knows how to make bad decisions and stick by them."
A Marine was deployed to Afghanistan. While he was there, he received a letter from his girlfriend. In the letter she explained that she had slept with two guys while he had been gone and she wanted to break up with him and she wanted pictures of herself back.  So the Marine did what any squared-away Marine would do. He went around to his buddies and collected all the unwanted photos of women he could find. He then mailed about 25 pictures of women (with clothes and without) to his girlfriend with the following note:  "I don't remember which one you are. Please remove your picture and send the rest back."
Every married man should forget his mistakes. There's no use in two people remembering the same thing.
My ex-gf wanted to embarrass me, and attempted to do so by loudly proclaiming in front of her friends how bad I was in bed.
You should have seen the look on her face when they all disagreed.
January 29th Birthdays
1953 – Oprah Winfrey, 1986 – Isabel Lucas, 1975 – Sara Gilbert, 1971 – Giovanna Fletcher
1982 – Adam Lambert,  1978 – Justin Hartley,  1945 – Tom Selleck
Morning Motivator
You are the sum total of all your choices up until this moment.
See the fighter's Mug shot
https://nypost.com/2021/01/26/wife-stabs-husband-after-seeing-old-pics-of-them-having-sex-report/