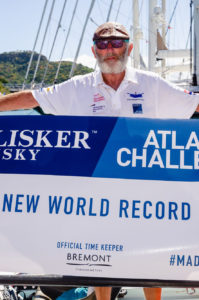 Frank Rothwell, a 70 year old grandfather has become the oldest person to row 3,000 miles solo and unassisted across the Atlantic Ocean. Frank raised more than £640,000 for dementia research rowing in a boat nicknamed "Never Too Old." He set off from the Canary Islands in December and crossed the finish line in Antigua in the Caribbean 56 days later. He said crossing the finish line was a "completely euphoric moment" as he raised money in tribute to his brother-in-law Roger, who died with Alzheimer's aged 62 during his journey. Rothwell went on: "I felt quite emotional approaching the finish. It took six long weeks to row the Atlantic, but the challenge itself has taken over 18 months of training and preparation, so I'm very proud of what I've achieved and the unbelievable journey I've been on. Frank Rothwell, is a prostate cancer survivor and had previously spent five weeks on a deserted island for a Bear Grylls TV program.
Rowing together
They just opened a Gold's Gym in Havana, Cuba
I'd like to see the line for that rowing machine…
Why do scuba divers fall backwards off of the boat?
Because if they fell forward, they'd still be on the boat.
I named my boat Relation. Now I can tell people…
I have a Relationship.
Give a man a fish and he will eat for a day. Teach him how to fish, and he will sit in a boat and drink beer all day.
February 12th Birthdays
1994 – Jennifer Stone, 1968 – Chynna Phillips, 1991 – Park Bo Young
1969 – Josh Brolin, 1970 – Jesse Spencer, 1807 – Abe Lincoln
Morning Motivator
Only those who can see the invisible can do the impossible.