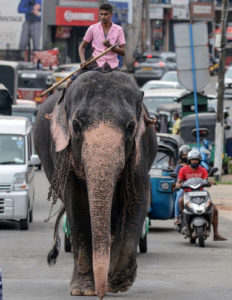 Free at last! Free at last! Thank Heaven the Elephants now have equal rights. Many tourists to Sri Lanka want the thrill and pictures of riding on an elephant's back with a stunning ocean on one side and a lush mountain backdrop om the other. After years of reports of cruelty, mistreatment, lack of appreciation and even deaths of the island nation's elephants, the animal lobby has come lumbering back. There are new, reasonable rules to protect the elephants from the puny people. The measures prohibit being drunk or high while riding these animals. "It is known that mahouts (elephant drivers) consume liquor all the time. Most event organizers think mahouts need to be intoxicated to be able to deal with upset elephants. Ironically, it is the drunkenness of mahouts and their brutality to the elephants that largely leads to violent behavior." The new measures ban baby elephants under the age of two from working. Instead, they have to be kept with their mothers. Each elephant will be assigned a biometric identity and use in logging and tourism will be restricted. No more than four people can sit atop an elephant. Each elephant must go through a medical check-up every six months. Killing one carries the death penalty. Prosecutions for these offences are rare as it's quite fashionable for rich people to privately own elephants as a status symbol.
Elephantine humor:
Anything not related to elephants
is irrelephant.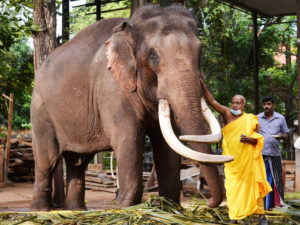 What do you get when you cross an elephant with a rhino?
Hellifiknow.
Did you hear about the elephant with two trunks?
He was carrying his luggage.
Did you hear the one about the elephant with diarrhea?
No? Funny, it's all over town.
What would happen if the fly on the wall told the elephant in the room about the skeleton in the closet?
Total chaos would ensue.
September 2nd Birthdays
1968 – Cynthia Watros, 1955 – Linda Purl, 1966 – Salma Hayek, 1987 – Spencer Smith
1964 – Keanu Reeves, 1948 – Terry Bradshaw, 1951 – Mark Harmon, 1984 – Jake Ryan
Morning Motivator:
A smile improves your face value.