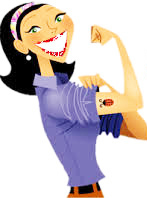 Supermom was in the house while her son was playing outside near Calabasas in Los Angeles County on Thursday when she heard her 5 year old screaming. She ran outside to discover a 65-pound mountain lion had grabbed the boy and was dragging him about 45 yards into the woods. She immediately started beating the lion with her bare hands until the animal released the child. The mountain lion managed to inflict wounds to the boy's head, neck and upper torso. Supermom continued until the lion ran off into the woods. She picked her son up and took him to the hospital. "This mom's an absolute hero who saved her son's life, there's no question about it." the fire chief said. The boy will remain in the hospital as he recovers from his injuries. The boy, whose name was not released, is now in a stable condition. Fish and Wildlife officers quickly visited the scene, where an officer discovered an "aggressive" mountain lion crouched in the corner of the property while clearing the family's yard, officials said. Just about 20 minutes later, two more mountain lions appeared. One was a full-grown adult with a radio collar around its neck — later identified as P-54 and the other a smaller, 65-pound mountain lion. The attacking animal was later identified and put down by wildlife authorities.
Motherly Success
Aunt Ruby and Uncle Arnie tried for years to have children of their own with no success and so they adopted a baby boy. Later that same year Ruby got pregnant and had another baby boy. One of the women of the neighborhood came to visit and asked which one of those boys is yours? Ruby replied, "They both are." The lady rephrased her question, "Which one is adopted?' After a moment's thought Ruby replied looking her straight in the eye, "I have forgotten."
A waiter checks on a table of Jewish mothers and asks:
Is anything ok?
"My mother is such an alarmist", complained the teenager. If I cough, she swears it is Covid. If I have headache, she thinks it is a tumor. One little lie and she thinks I will turn out to be a politician.
As a new father and a doctor I quickly learned the true meaning of maternal instinct. Late one night, I was summoned to the hospital to attend to one of my patients. I quietly got up in the dark but tripped over toys and crashed to the floor. As I lay there rubbing my sore leg, my wife slept on. Then there was a faint cough from our nursery, Deborah leaped out of bed, running past me down the hall to our baby's room. When she returned, she looked at me and said, "What are you doing laying on the floor?"
September 1st Birthdays
1986 – Lillian Bowden, 1957 – Gloria Estafan, 1997 – Zendaya, 1940- Lilly Tomlin
1981 – Clinton Portis, 1875 – Edgar Rice Burroughs, 1946 – Barry Gibb, 1982 – Ryan Gomes
Morning Motivator:
When deeds speak, words are nothing.
Supermom to the Rescue