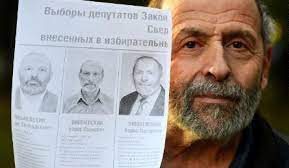 Boris Vishnevsky, a veteran Russian opposition politician, was gearing up to run in elections this month when he learned that two of his opponents would not only have the same name as him, but even the same facial hair in their official portraits. They are recruited doppelgangers. The 65-year-old is seeking to reelection to his seat in St. Petersburg's Legislative Assembly and Boris accuses the Putin government of fielding "spoiler" candidates to confuse his voters and reduce his chance of winning. He said the two other Boris Vishnevskys had changed their names and surnames, and even altered their appearances in their election photographs to look more like him. The real Boris posted a photograph of the three of them on Twitter. The two other candidates could not be reached for comment. A complaint by Vishnevsky demanding that his rivals use their previous names on the ballot so that the three candidates could be distinguished was rejected by the election commission. The commission said, "their different middle names were enough," the government TASS news agency reported. "At each election for many years now we say that these were the dirtiest and most dishonest elections ever, and then the next one comes and we say the same phrase. It turns out the previous elections were better and today's are even worse," Boris said.
Double trouble
What do they call a Double Quarter Pounder with cheese, large fries, and a Diet Coke in France?
"The American Weight Loss Plan."
Q: Why don't blondes double recipes?
A: The oven doesn't go to 700 degrees.
Mr. Smith found a doppelganger of his wife.
Mr. Smith to the airline stewardess – "You look exactly like my wife."
Air hostess feeling a bit agitated by that remark slapped him.
Mr. Smith – "What a coincidence, you even have the same temper."
I saw a Steve Jobs doppelganger on a Spirit airlines flight today.
You could say that he was there, in Spirit.
September 10th Birthdays
1982 – Misty Copeland, 1953 – Amy Irving, 1974 – Jill Chartier, 1970 – Paula Kelley
1975 – Ryan Phillippe, 1997 – Camil McFadden, 1960 – Colin Firth, 1965 – Jack Ma
Morning Motivator:
In trying times, try harder.