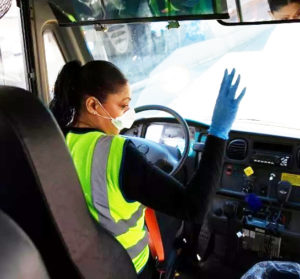 You thought the plague was over and life would get back to normal, especially with the children going back to school. BUT in Boston and Philadelphia getting back to school is the hard part. Most days, the yellow bus that's supposed to take Denise Madre's kids from their Germantown home to school doesn't show up at all. A bus did come on one of the six days school has been open so far — nearly four hours late. That happened after Madre, who doesn't drive, paid for an Uber to get Jonan and Braylee, both of whom have autism to school. A shortage in the Boston area prompted bus drivers to ask the start of school be postponed. Many students have been hours late to school in the days since. The Philadelphia School District officials warned the community about worsening school bus driver shortages this summer, and shifted start times over community and school objections to streamline operations. The district is even offering families $1,500 annually to drive their children to school instead of putting them on a yellow bus. Boston Public Schools claimed the district had a 57% on-time rate Thursday morning, better than the five-year average for the first day of school. Shortages of school bus drivers have been reported nationally. Governor Charlie Baker activated up to 250 members of the Massachusetts National Guard Monday, amid a school bus driver shortage in several communities.
School busted
What's yellow and comes in the morning to brighten every parent's day?
The school bus.
I have a friend who worked in Chicago his entire life and he tells me it isn't that violent…
He is a tail gunner on a school bus.
Q: How did you find school today?
A: I simply hopped off the bus – and there it was.
A Pakistani Boy Got Admission to an American school:
Teacher: "What's your name?"
Boy: "Ahmad."
Teacher: "No, now you are in America, your name is Johnny from now on at school."
Boy Went Home. Mom Asked: ""How was the day Ahmad?"
Boy: "I'm an American now, call me Johnny."
Mom & Dad were both highly offended and beat him.
The next day he was back in school, but all bruised up.
Teacher: "What happened Johnny?"
Boy: "Ma'am, Just 4 hours after I became American, I was attacked by two Pakistanis!"
September 14th Birthdays
1978 – Danielle Peck, 1988 – Kirsten Haglund, 1971 – Kimberly Williams, 2000 – Emma Kenney
1973 – Andrew Lincoln, 1991 – Shayne Topp, 1989 – Jesse James, 1996 – Deshaun Watson
Morning Motivator:
Success comes in "Cans" – failure comes in "cannots."