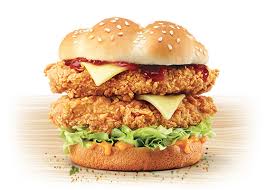 Few everyday Americans appreciate the lust for one American food brand around the world. KFC has devoted customers who risk life and mouth for their favorite flavor. In New Zealand the government had Covid locked down the Capital, Auckland which meant the restaurants were closed and the streets were pretty much vacant. In the rest of the country restaurants and bars are open, residents are allowed to leave their homes. Two men were caught trying to enter Auckland with a trunk full of KFC. The police patrolling the back roads noticed a suspicious vehicle attempting to make a U-turn and speeding off to evade them. Police chased them and eventually pulled the men over. They searched the car and that's when they found the trunk stuffed full of KFC, money, and "empty ounce bags." According to pictures, the KFC haul had at least three buckets of chicken, a large amount of fries, ten containers of coleslaw and other menu items as well… KFC banned minors from eating at their stores in England. This was due to numerous violent brawls among kids that led to arrests. It seems those original herbs and spices are very addictive… In Vietnam, they had the Army bringing inner city people finger lickin' good chicken during their covid lockdown. Holly Strevens, 34, from Portsmouth, England, reportedly had to have her jaw replaced after stretching her mouth to eat a KFC stacked chicken burger (pictured). She attempted to chow down a Fillet Tower Burger. The stack sandwich was too tall for her mouth and when she really, really opened wide she gave herself TMJ and has endured five operations and had 12 screws put in her jaw. "'I feel angry that this has happened but it can happen to anyone who opens their mouth too wide," Strevens told the Mail . "I was eating a KFC at home while watching the TV and all of a sudden I had a loud pop noise. I must have stretched my mouth too wide when biting the burger."
KFC the most bestest
Instead of saving more for retirement so I don't outlive my money, I'm having KFC three times a week to shorten my life expectancy.
Because of a chicken shortage, KFC closed several restaurants in the UK as they search for something that tastes similar.
KFC is a shelter for battered chickens.
What does KFC use to make its popcorn chicken?
Chicken colonels.
Why does Biden like KFC better than Popeye's Chicken?
Less to read
September 24th Birthdays
1992 – Colene Garcia, 1962 – Nia Valdaros, 1941 – Linda McCartney, 1978 – Keri Lynn Pratt
1982 – Erik Stocklin, 1995 – Ross Matthews, 1976 – Ian Bohen, 1985 – Hasan Minhaj
Morning Motivator:
If you can't calm the waters learn to ride the waves.