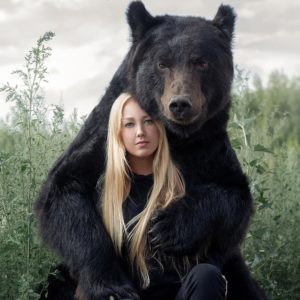 Veronika Dichka likes to spend time 'fishing' together Archie on the forest lake in their native Novosibirsk, found in southern Siberia. The pair are like any other friends cherishing each other's company the picture shows their quality time on the water. They are shown with fishing rods in hand, and Veronika hugging her furry friend. While Veronika has lots of published pictures and many on Tik Tok, Archie is a bear about posing for the camera. Because he is a bear with a special pedigree. Archie was born and raised in an animal sanctuary/petting zoo and has never had to fend for himself in the wild. Even though he weighs about three times Veronika they seem to get along very well together fishing and posing for the cameras. Veronika said: 'He sees me as a member of his family, we share food, [he] sleeps in my arms when afraid, and hides behind me. 'Archie spends every day with us and is madly in love with water. He loves it very much when I take him to new places, so this photo shoot was a pleasure for him!' The duo have been together for two years and so far it has worked out well for both of them playing in the lake and in the Siberian snow. This qualifies her boyfriend as warm and fuzzy.
Warm, furry boyfriend
My Russian boyfriend only writes in lowercase letters…
He doesn't like Capitalism.
I discovered that my boyfriend is a communist spy.
I guess I could have noticed this sooner but chose to ignore the red flags.
A teenage girl brought her new boyfriend home to meet her parents.
They were appalled at his spiky hair, pierced nose, tattoos and a bad attitude. Later, the parents pulled their daughter aside and confessed their concern. "Honey," the mother said, "he doesn't seem very nice."
"Of course he is," the daughter replied. "If he wasn't nice, why would he be doing 500 hours of community service?"
I broke up with my boyfriend after five years. We would have broken up after the first two weeks, but new restaurants kept opening.
September 29th Birthdays
1980 – Chrissy Metz, 1977 – Ninel Conde, 1982 – Kelly MacCreary, 2002 – Chloe Moriondo
1989 – Kevin Durant, 1936 – Jerry Lee Lewis, 1994 – Ahad Raza Mir, 1971 – Zachary Levi
Morning Motivator:
Some pursue happiness, others create it.