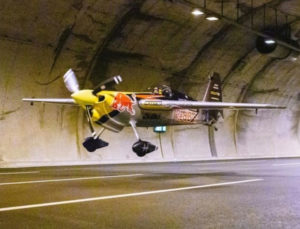 Dario Costa, 41, took his modified Zivko Edge 540 race plane for a 1.4-mile flight along the Northern Marmara Highway for the longest specialized flight with an airplane. Costa said it took about a year of practice to prepare for the 43.44-second flight." The trick was Dario flew at about 147 miles per hour through two tunnels made for cars in the mountains of Turkey. Limited overhead clearance meant that he had to keep the aircraft on a flight path just above the asphalt while also managing a claustrophobic margin of only about four meters between each wingtip and the unforgiving walls. Changes to airflow, combined with the highly sensitive steering of the aircraft, required reaction times of less than 250 milliseconds as Costa executed fine hand movements of mere millimeters throughout the flight. "I'd never flown in a tunnel in my life — nobody had ever done it — so there was a big question mark in my head whether everything would go as we expected," Costa told Red Bull, which sponsored the attempt. "It was a big relief, of course, but big, big happiness was the main emotion. For me, it's another dream come true." Costa set five records with his feat: longest tunnel flown through with an airplane, first airplane flight through a tunnel, longest flight under a solid obstacle, first airplane flight through two tunnels and first airplane takeoff from a tunnel.
Fear of Flying
Why do the seats on airliners double as floating devices when they should double as parachutes?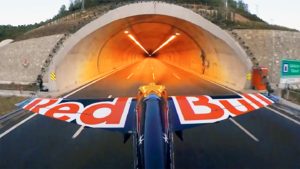 A young couple are trying to save money on their summer vacation.
They bring their bags to the discount airline desk to check in.
"Do you have reservations?" asks the woman behind the counter.
"More than a few," the young man answered, "but we're flying with you guys anyway."
A PESSIMIST sees a dark tunnel
An OPTIMIST sees light at the end of the tunnel
A REALIST sees a freight train
The TRAIN driver sees 3 idiots standing on the tracks
Did You hear about that guy who shipped himself in a crate from New York to Dallas? You know the worst part?
He had to change crates in Atlanta.
September 8th Birthdays
1972 – Brook Burke, 1979 – Pink, 1991 – Dianne Doan, 1988 – Chantal Jones
1972 – Martin Friedman, 1972 – David Arquette, 1976 – Larenz Tate, 1971 – Jocko Willink
Morning Motivator:
It is not because things are difficult that we do not dare, it is because we do not dare that they are difficult.