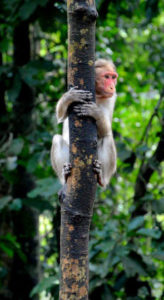 Bad news for those who have adopted coconut milk as their go-to replacement for real dairy. A number of major U.S. grocery store chains are pledging to not stock coconut products from Thai suppliers accused of using slave labor to harvest their coconuts. But it's not people the producers are enslaving. Instead, they are using monkeys to pick the nuts from their palm trees. Walgreens, Food Lion, Giant Food, Costco, and Stop & Shop have all stopped stocking coconut products from the accused producers using Monkey slavery. PETA claims that upon visiting eight coconut farms. "Terrified young monkeys in Thailand are kept chained, abusively trained, and forced to climb trees to pick coconuts." "According to an industry insider, most coconut that comes from Thailand was picked by monkeys." Are the Thai coconut farms engaging in monkey slavery, or is this a case of PETA monkeying with us?
Monkeying around
"What is your occupation sir?" "I used to be an organist."
"And why did you give it up?" "I had to, the monkey died."
My brother recently adopted a chimp.
Well, I'll be a monkey's uncle.
Did you know before they had Monkey bars
Monkeys would just drink at home.
What do you call a group of monkeys who share an Amazon account?
Prime Mates
November 5th Birthdays
1963 – Tatum O'Neal, 1983 – Alexa Chung, 2001 – Alex Hook
1981 – Luke Hemsworth, 1941 – Art Garfunkel  1994 – Zack Henri, 1952 – Bill Walton
Morning Motivator
The art of being wise is knowing what to overlook.
Captive monkey business