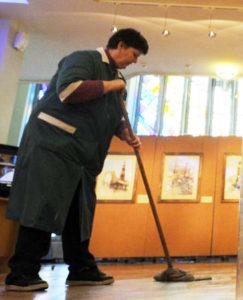 In Povalikhino, a small town in rural Russia, official elections must have at least two candidates. So, Nikolai Loktev, the 58-year-old incumbent mayor, asked the city hall's 35-year-old cleaning lady to join him on the ballot as a formality. Loktev's plan didn't work out quite as planned; Marina Udgodskaya earned 62% of the vote to Loktev's 34%. A local said, "If we could have voted against everyone we would have done that, but we had the option to vote for Marina, so we did." Initially, Udgodskaya was going to resign the position, she would have to fund a new election if she refused the new job. The mayor's assistant has faith in the newly elected mayor, "I think she'll cope. The whole village will help." The Russian establishment pre-selects winners and losers, going to great lengths to prevent viable opponents from even appearing on the ticket.
Holy Apparatchik
A KGB agent goes to a library and sees an old Jewish man reading a book.
"What are you reading, old man?" he asks.
"I'm learning Hebrew, comrade," replies the old Jew.
The KGB agent asks, "What are you learning Hebrew for? You know it takes years to get a permission to travel to Israel? You will die before you get one."
"I'm learning Hebrew for when I go to heaven so I can speak with Moses and Abraham," replies the old man.
"How do you know you're going to heaven? What if you go to hell?" asks the KGB agent.
"I already speak Russian."
Watch out when drinking tea in Russia…
…you never know what they Putin it.
Russia started a new website that tracks down and deletes pirated movies.
Nyetflix.
Where do Russians buy their coffee?
Tsarbucks
November 17th Birthdays
1944 – Lauren Hutton, 1966 – Sophie Marceau, 1979 – Rachel McAdams
1944 – Danny DeVito, 1938 – Gordon Lightfoot, 1942 – Martin Scorsese, 1979 – Tom Ellis
Morning Motivator
There is always room in your life for thinking bigger
In Russia, an election happened