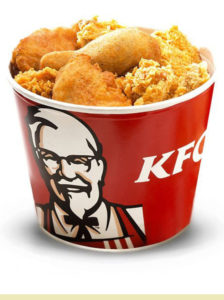 Imagine relaxing on a chilly Fall night with a roaring fire and the smell of KFC chicken filling the air; the perfect Thanksgiving night. The new KFC custom made firelog is "designed to make your home smell like fried chicken and feel as warm as an Extra Crispy drumstick. For the past two years we have warmed the hearts and homes of our fried-chicken fans during the holiday season with our 11 Herbs & Spices Firelog. Although this year may look different, we hope that by expanding our exclusive partnership with Enviro-Log and Walmart, people can once again grab a fried-chicken scented firelog, order a bucket of chicken from KFC, and savor our favorite holiday tradition." KFC debuted the log for the 2018 holiday season, in 2019 it created a faux bear-skin rug that resembled Colonel Sanders as part of a Valentine's Day giveaway.
Finger licking humor
KFC is a shelter
for battered chickens
General Tso…Colonel Sanders…
What is it with these high ranking military men making chicken?
Q: Why did the chicken cross the road?
A: To show the armadillo that it was possible.
Instead of saving more for retirement so I don't outlive my money,
I'm having KFC three times a week to shorten my life expectancy.
November 6th Birthdays
1972 – Rebcca Romijn, 1996 – Katy LeClerk, 1946 – Sally Field, 1988 – Emma Stone
1991 – Pierson Fode, 1979 – Lamar Odom, 1970 – Ethan Hawke
Morning Motivator
No attainment is beyond his reach who equips himself with patience to achieve it.
Put another log on the fire