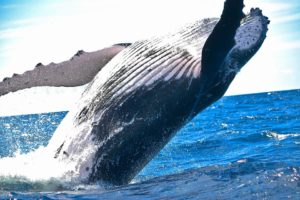 Julie McSorley and Liz Cottriel were kayaking off Avila Beach, California when a group of humpback whales approached the kayaks. McSorley decided to video the rare sight, but things took a turn suddenly her and Cottriel's kayak lifted up in the mouth of whale… they both fell into the water. "I saw the big pool of fish, the big bait ball come up out of the water. I saw the whale come up," McSorley said. "The whale was right here in my face, literally," Cottriel added. A nearby kayaker was also filming the experience and caught the entire encounter on camera. I'm thinking, 'I'm dead. I'm dead.' I thought it was gonna land on me," Cottriel told Fox 26 News. "Next thing I know, I'm under water." "We got back to the car, I was shaking my shirt and a bunch of fish came out of my shirt," Cottriel said. Neither of the women were harmed, although McSolrey did lose her car keys.
Down river humor
[While paddling along the amazon silently in a kayak]
Wife: "It's so beautiful"
Me: "Can you believe they named this after a website?"
The bartender "Lars" asked Ole, "Do ya know da difference between a Norvegian and a kayak?" "No, I don't," said Ole. "A kayak will sometimes tip."
While watching Olympic kayaking, I was surprised at how bad the Cuban team was at paddling. Then I realized,
That's probably why they're still in Cuba.
What does "kayak" sound like upside down?
"Boulblblbouulblvllgllgl"
November 9th Birthdays
1988 – Nicki Blonsky, 1999 – Karol Sevilla, 1980 – Vanessa Minnillo
1972 – Eric Dane, 1934 – Carl Sagan, 1951 – Lou Ferrigno, 1942 -Tom Weiskopf
Morning Motivator
The trouble with not having a goal is that you can spend your life running up and down the field and never score.
Down in the mouth story