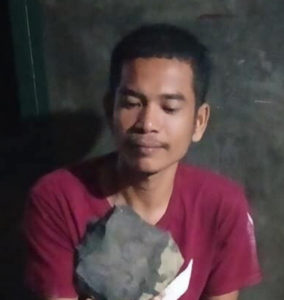 Josua Hutagalung, 33, said he was working outside his home in Sumatra when a meteorite crashed through the roof of his house and landed buried in the dirt outside his house. Josua didn't know exactly what it was, but it was something different and maybe valuable. "When I lifted it, the stone was still warm, and I brought it into the house," Hutagalung posted a video showing the spot where the metallic object had crashed through his tin roof. It was a 4.5-pound chunk of CM1/2 carbonaceous chondrite, a rare variety of meteorite. Josua originally hoped to get $1.8 million for space rock, but it was likely sold for much less. He said the money will allow his family to expand and he also plans to donate some toward the building of a local church.
Money from Heaven
Why are asteroids vegetarians?
Because they aren't meteors.
How did the bodybuilding dinosaur die?
Asteroid overdose!
Friends invited me to a meteor shower party, but I couldn't make it.
They were crushed.
Bought a super, high tech pen today. It can write "underwater" and "in space"….
and many other fine words.
November 24th Birthdays
1978 – Katherine Heigle, 1990 – Sarah Hyland, 1993 – Hande Ercel
1925 – Willam F. Buckley,  1997 – Peyton Meyer, 1983 – Gwilym Lee
Morning Motivator
We have no problems, only opportunities to improve.
Money for Roof repairs