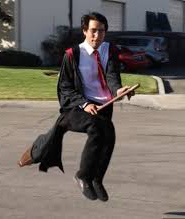 In the traffic-choked streets of Brazil's megalopolis Sao Paulo, Vinícius Sanctus and Alessandro Russo were "flying" down the city's main thoroughfares on a pair of broomsticks, each one attached to a single motorized wheel. In motion, the contraptions look uncannily like the brooms used by witches and wizards in the Harry Potter universe. "Actually, I tell my friends that now I only go to the bakery using my broom. But it's not a joke. I actually do that," said Russo. The brooms that can reach a top speeds of 37 miles per hour are useful for day-to-day urban living, they say. The duo has plans to market and sell the broomsticks, which cost about $740 each.
SIRIUSLY RIDDIKULUS HARRY POTTER PUNS
I think Harry Potter would fit in well working at the post office…
Apparently he's got the rare gift of being able to speak Parceltongue.
Hagrid: "You're a unit of power, Harry."
Harry: "I'm a watt?"
What is Harry Potter's favorite way of going down a hill?
J.k. Rowling
You know those brooms they ride around on in Harry Potter? How much do they cost?
About a quid each…
I used to be jealous of Harry Potter for being able to talk to snakes.
But it turns out, I've been doing it for years.
November 13th Birthdays
1980 – Monique Coleman, 1959 – Tracy Scoggins, 1989 – Candice Harris
1963 – Vinny Testaverde, 1970 – Gerard Butler, 1967 – Steve Zahn, 1960 – Niel Flynn
Morning Motivator
I would rather be a failure at something I love to do; than a success at something I hate
Quiditch anyone?