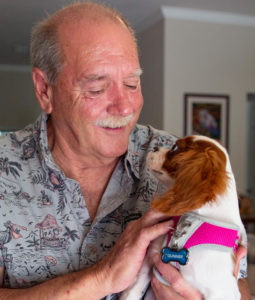 74-year-old Richard Wilbanks was walking Gunner, his 3 month old spaniel, along a pond's shoreline near his home in the village of Estero. Suddenly a 4-foot gator lunged from the water and grabbed the puppy. Shocked Wilbanks jumped into the water and pried open the gator's jaws, freeing the frightened puppy. "It was like a missile," Wilbanks told the newspaper. "We were only about 3 feet away from it, but it struck like a snake. It had Gunner in a vise grip and I just rushed in." The video shows Wilbanks wrestling with the gator at the water's edge. The attack left both Wilbanks and Gunner bleeding. Wilbanks and his wife took Gunner to an animal hospital where doctors found a puncture wound. He said X-rays showed only some water in the lungs, and the puppy stayed at the hospital for a few days to recover. While this video was shocking and I'm glad everyone was OK, It's a learning opportunity for the importance of respecting wildlife and taking precautions to make sure this doesn't happen to anyone else."
Gator Glory
Did you know alligators can grow up to 22 feet?
But most of the time they just grow 4.
According to latest news the current Governor of Florida used to own and run his own alligator farm. So not only does he have experience with horrible scaly reptiles
he's also worked with alligators too.
Why won't alligators attack lawyers?
Professional courtesy!
A woman called our airline customer-service desk asking if she could take her puppy on board. "Sure," I said, "as long as you provide your own kennel." I further explained that the kennel needed to be large enough for the dog to stand up, sit down, turn around, and roll over. The customer was flummoxed: 
"I'll never be able to teach him all of that by tomorrow!"
November 26th Birthdays
1939 – Tina Turner, 1967 – Garcelle Beauvais, 1960 – Jamie Rose
1974 – Peter Fancinelli, 1986 – Trevor Morgan, 1990 – Rob Raco
Morning Motivator
The ultimate measure of a man is where he stands in moments of challenge and controversy.
Not in my Swamp you don't