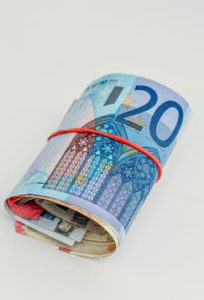 Hail Britannia or at least one town: Blackhall Colliery of County Durham. A group of amateur psychologists wanted to see if allegedly poor people would return, share or spend money found in the street. Over 6 years they put together 13 bags of $2700 worth of 20 Euros bills and left them laying on the sidewalk. Amazingly 13 (all that we now of) ended up at the local police station. The group wanted to be anonymous so they did not claim the money and after two weeks the finder could have the money back. "These bundles are always left in plain sight and discovered by random members of the public who have handed them in. This could be the work of a Good Samaritan, but we would like to thank the residents who have shown incredible community spirit by handing the money in," police said.
Found Money Funnies
There was a fortunate lady who had lost her purse and had it returned to her by a young man. She examined the contents and remarked, "this is strange, I had a $100 bill in the purse when I lost it and now there 5 – $20 bills in here." "That's right Mam, the last time I returned a lost purse the lady did not have change for the reward."
To make extra cash, my professor forces all his students to buy his book at the beginning of the term.
It's textbook Economics.
Husband and wife in bed together. She feels his hand rubbing her shoulder. She says, "Oh that feels good." His hand moves to her breast. She says, "Oh honey, that feels wonderful." She feels his hand on her leg. She says, "Oh honey don't stop." He stops. She asks, "Why did you stop?" He says, "I found the remote."
I believe in honesty and integrity. Someone asked me what I would do if I found a million dollars on the street. I said that if it belonged to a poor person I would give it back.
December 4th Birthdays
1973 – Tyra Banks, 1965 – Marissa Tomei, 1955 – Cassandra Wilson
1988 – Joshua Mosei, 1998 – Ruru Madrid, 1949 – Jeff Bridges, 1989 – Mario Maurer
Morning Motivator
Sometimes courage is the little voice at the end of the day that says, "I'll try again tomorrow."
English Honesty Reigns