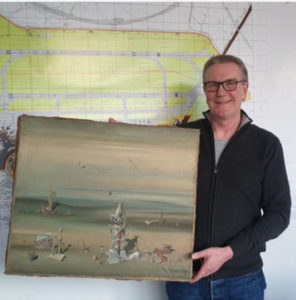 An anonymous businessman must have been in a hurry…or very bored with waiting for his plane to load passengers in Dusseldorf. When he got up to get on the plane, he left behind a 24 by 16" painting worth about $340,000 wrapped in cardboard at the gate. By the time he landed in Israel and contacted Duesseldorf police the package had disappeared. Despite multiple emails with details officials could not locate the artwork. After the businessman's nephew traveled to the airport from neighboring Belgium and talked with police directly with more information, an inspector was able to trace the painting to a paper recycling dumpster used by the airport's cleaning company. "This was definitely one of our happiest stories this year," police said. "It was real detective work."
"Art" is in the eye of the beholder
I was attacked by a group of mime artists.
They did unspeakable things to me.
Artist: "This picture it took eight years of work."
Frank: "That's a long time to devote to one painting."
Artist: "Well, it took six days to paint it and the rest of the time to sell it."
Q: Why did Van Gogh become a painter?
A: Because he didn't have an ear for music.
Just because no one understands you does not mean you are an artist.
December 15th Birthdays
1982 – Michelle Dockery, 1980 – Alexandra Stevenson, 1984 – Camilla Luddington
1942 – Dave Clark, 1934 – Tim Conway, 1980 – Adam Brody, 1950 – Don Johnson
Morning Motivator
Many folks want to serve God, but only as advisers.
I had it just a minute ago