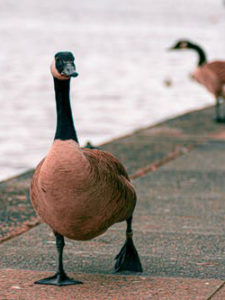 Robert Meilhammer, 51 was hunting geese with a couple of buddies on property they had leased for hunting. Friday as the sun set a flock of geese flew overhead and the boys let the bullets fly. Apparently one of the group did hit one of the geese. "These birds weigh anywhere from 10 to probably 14 pounds. They can have a wingspan of up to six feet. So, if they're falling 60 feet and they hit you, it's going to definitely cause severe damage," said Maryland Natural Resources Police. Robert was looking up to see what he was shooting at and one of the dead birds shot by one of the other guys hit him in the head. The blow knocked him down and out and broke 2 teeth. His pals could not revive him and he was carried to the road by fellow hunters and eventually flown to Shock Trauma in Baltimore. As of Friday night, Meilhammer was in stable condition and still recovering.
Hunting Humor
I went turkey hunting recently with my new shotgun…
scared the hell out of everyone in the frozen foods section.
A group of four friends who went deer hunting separated into pairs for the day. That night, one returned to the camp alone staggering under an eight-point buck. "Where is Harry," asked the other hunters. He passed out a couple miles up the trail, Harry's partner answered. "You just left him lying there alone and dragged the deer back?" "It was a tough call," said the hunter "but I figured no one is going to steal Harry."
Did you know "Vegetarian" is a Native American word?
It means "Lousy Hunter"
A gaggle of geese, a brood of hens, what do you call a group of turkeys?
A corporation.
December 7th Birthdays
1989 – Emily Browning, 1952 – Susan Collins, 1978 – Shiri Appleby
1956 – Larry Bird, 1989 – Nicholas Hoult, 1973 – Terrell Owens
Morning Motivator
Knowing is not enough; we must apply. Wishing is not enough; we must do.
What goes up…