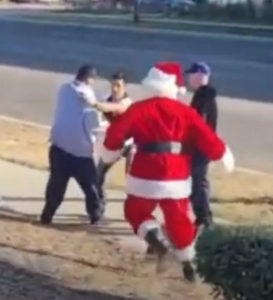 Who would think of anything suspicious when they saw a Red suited Santa and full-sized Elf walking around the mall in Riverside California? Apparently, several shoplifters and some car thieves were not being good boys and girls. Santa and his helper arrested people spoiling Christmas in a Target store there. A 55-year-old was also arrested by the undercover Santa and elf for stealing Lego toy sets totaling $100. They arrested a woman who walked out of a store with a cart full of stolen items. She also had narcotics. A third man who tried to enter the store despite being banned for earlier thefts. Santa and his elf sprang into action after witnessing a white Honda CR-V being stolen in the parking lot. The officer in the elf costume ordered one of the suspects to get on his knees at gunpoint. Behind them, Santa can be seen rushing to apprehend the second suspect who was resisting arrest. "Get him Santa!" someone yelled encouraging them.
Good little boys and girls
My Chinese roommate and I decided to give each other homemade Christmas gifts this year! I'm hoping for an iPad!
On a trip to see Santa, my friend's young son, Danny, climbed onto St. Nick's lap and shared his wish list. Later that day, in another store there was Santa again. "And what would you like for Christmas?" he asked Danny. Shaking his head, Danny sighed. "You really need to write these things down."
According to my kids' Christmas lists, they think this parenting gig pays pretty well.
Last Christmas I got my son a toy that was absolutely guaranteed to be unbreakable. He used it to break all his other toys.
December 21st Birthdays
1953 – Tina Brown, 1954 – Chris Evert, 1974 – Karrie Webb, 1983 – Mahira Khan
1957 – Ray Romano, 1940 – Frank Zappa, 1966 – Kiefer Sutherland, 1983 – Steven Yeun
Morning Motivator
The roots of all goodness lie in the soil of appreciation for goodness.
You better watch out