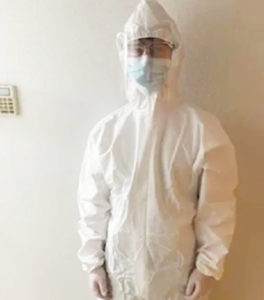 Mason Kalkofen said he was worried about contracting the virus on campus and spreading it to his mother, Margarita, who is at high risk and could suffer severe medical complications. The teenager made the decision to wear the head-to-toe hazmat suit after Spring Woods High School, required virtual students to take some of their final exams in person. Mason's parents tried to get the district to make an exemption. The family has received multiple letters from the school this month about positive cases on campus. "I'm have to go in a hazmat suit," Mason said. "That way I can protect my family." Mason's mother said, "I don't want to get sick. I don't want to end up in a hospital because the school district doesn't care." The school's statement said of 2,064 students, only 17 students have tested positive for COVID-19.
Final Exam funnies
I failed my math exam because I couldn't remember how to write 1, 1000, 51, 6, and 500 as Roman numerals: IM LIVID
A guy goes to a mental hospital for a psychiatric exam. The doctor shows the guy an inkblot image.
Doctor: "Look at this card and tell me what you think it is."
The guy studies it for a minute and says, "Well, not sure, but to me it looks like Rorschach Series 6, card number 9."
Just purchased a hazmat suit,
Now I'm ready for my next toxic relationship.
I was pretty nervous about my Statistics class exam.
I think my chances of passing it are 40-40.
I failed my final exam on Greek mythology.
That stuff has always been my Achilles elbow.
December 23rd Birthdays
1992 – Sophia Black D'elia, 1994 – Reed Alexander, 1994 – Isabella Castilo, 1970 – Shannon Bream
1963 – Jim Harbaugh, 1948 – Jack Ham, 1971 – Naked Cowboy, 1978 – Victor Martinez
Morning Motivator
Only those who can see the invisible can do the impossible.
Better safe than sorry