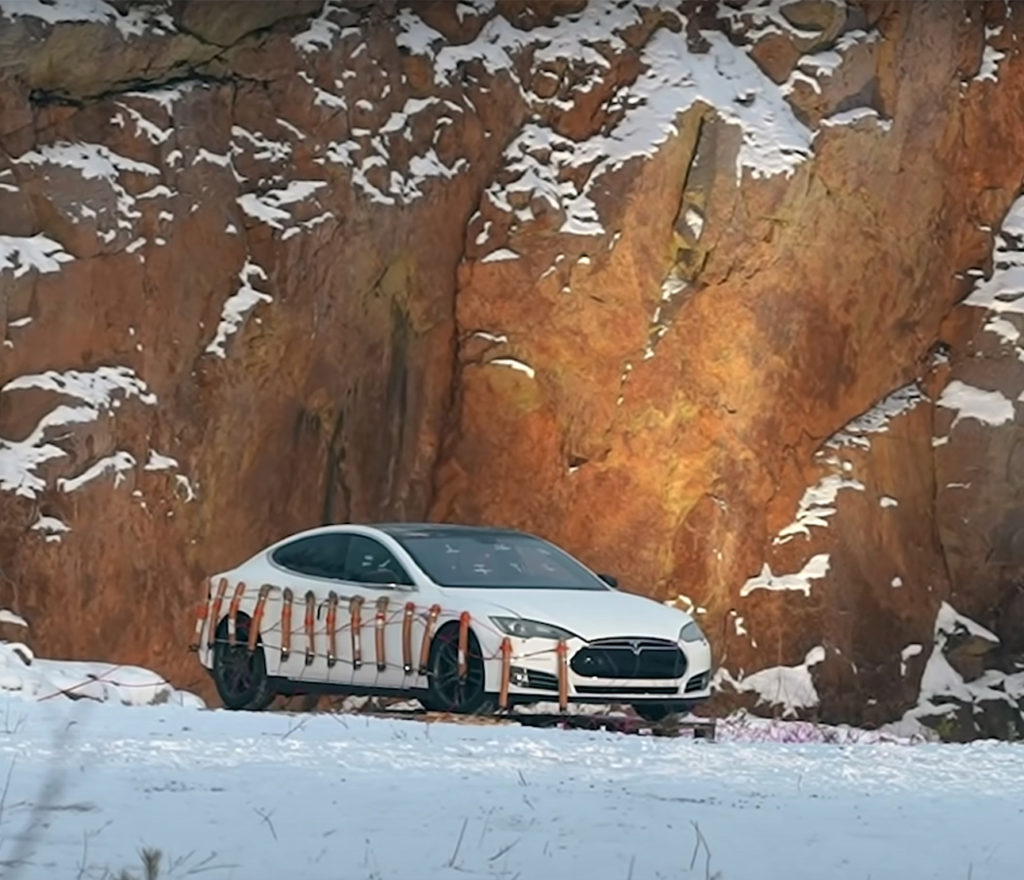 Tuomas Katainen of Finland was upset. He had paid serious money to get a real cool car. It was the latest technology and had the bells and whistles that would make him the envy of his gang. Tuomas had purchased a 2013 Tesla Model S. He bought the vehicle a year and a half ago. At first, the car worked fine, but after about 900 miles, Katainen started to notice water leaks and then error codes from the car's brains. After a month in the shop, mechanics said he'd need the "whole battery cell" replaced, at a price of about $23,900. "So I told them I'm coming to pick up the Tesla," he said in a video, produced by Finnish YouTuber Pommijätkät. "Now I'm going to explode the whole car away." Tuomas blew up his modified 2013 Tesla Model S with 66 pounds of dynamite in an abandoned quarry with the help of the "Bomb Dudes" and their volunteers. and recorded the explosive event. More than 2.8 million have watched the episode of the reality stunt web show. (Video below) The cost of a new Tesla Model S is about $95,000, but the experience of blowing one up is priceless. Last month, Tesla also recalled 11,700 cars over a faulty self-driving system, following again a NHTSA investigation behind the cause of 11 crashes since 2018 of drivers using "autopilot." No one else in the world has blown up their Tesla.
Flash Charging humor:
Tesla founder Elon Musk is originally from South Africa, which is strange
You'd think he was from mad-at-gas-car.
I had a terrible dream of a dystopian future where robots controlled every aspect of our lives.
Luckily, I was awakened by my Tesla.
Recently got run over by a guy in a Tesla, thought he got away but:
He's currently being charged with battery now.
My friends Tesla up and left him one day!
Apparently, the car's software concluded he just wasn't the right kind of driver.
January 4th Birthdays
1995 – Maddie Hasson, 1999 – Coco Jones, 2001 – Addie Miller, 1997 – Emma Mackey
1999 – Collin Sexton, 1785 – Jakob Grimm, 1930 – Don Shula, 1643 – Sir Isaac Newton
Morning Motivator:
Failure is an event, never a person.