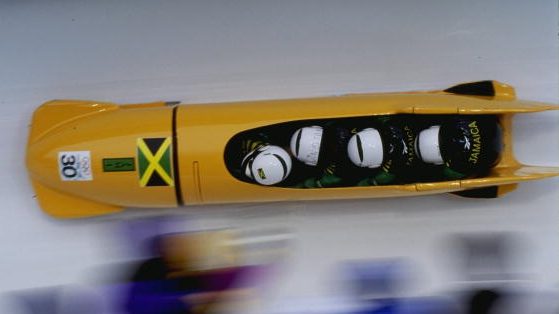 Team Jamaica announced Monday that they have qualified for three bobsled events in the Winter Olympics even though the country does not have one mountain with snow on it. Jamaica qualified in three Olympic bobsled events for the first time, also earning the last spot in two-man and a place in the new Olympic event of women's monobob. Training for the Beijing Olympics wasn't easy as the pandemic hit and lockdowns closed gyms in England, where some members of the bobsled team had to get creative in May 2020. Reuters showed the team pushing a Mini Cooper down a road to "replicate" the pushing their sled. Jamaica first made its Winter Olympics debut with its famed four-man bobsled team in 1988 in Calgary, where they gained popularity as an underdog and for not finishing their race. The team had a good start on their first Olympic run down the icy trough, but as turns came at them faster and faster they bounced off the side walls and the sled flew out the track and turned over. The team was embarrassed, but medically OK. Their historic run inspired the 1993 film, "Cool Runnings." Team Jamaica also announced their first ever alpine skier who will represent them in Beijing. Benjamin Alexander, who is a former DJ, became the first Jamaica skier to qualify for the Winter Olympics in the giant shalom. Less than three weeks before the Winter Olympics are set to open, China canceled plans on Monday to sell tickets to the public for the Games, as the number of COVID-19 cases in the country reached its highest since March 2020.
Funny Jamaica Mon
Tourist: "Is it true you Jamaicans answer a question with a question?"
Jamaican: "A who tell yuh dat?"
A teacher asked a Jamaican boy in class to use the word "dandelion" in a sentence
The kid said, "The cheetah is faster dandelion."
Having a Jamaican hairstyle theme at work tomorrow.
I'm dreading it.
My favorite part of winter is watching it on TV from Jamaica.
January 20th Birthdays
1991 – Ciara Hanna, 1972 – Nikki Haley, 1967 – Kellyanne Conway, 1989 – Dena Kaplan
1987 – Evan Peters, 1930 – Buzz Aldrin, 1970 – Skeet Ulrich, 1982 – Joe Swash
Morning Motivator:
Create the highest, grandest vision possible for your life
because you become what you believe.